Snap Edge Frames | Clip Open Print Holders for Quick Changes
---
Snap Edge Frames for Posters with Easy-Change, Front-Loading Designs
It's no secret retailers use printed promotional signage to sell merchandise, and often, custom graphics must be swapped out on a weekly, sometimes daily basis. Snap edge frames, unlike traditional rear-loading poster holders, provide instant access to your advertisements, making it easy to quick-swap graphics as needed. Standard framing comprises an assembly process by building layers of glass, mat boards, graphics, and backers, which all takes time to disassemble between promotions. Snap edge frames for posters provide easy access to your advertisement graphics, popping open to reload new material in seconds, saving plenty of time. Once this assembly is completed, you'd be hard pressed to take it down from the wall, disassemble, and replace the image. In fact, traditional print frames are really designed to be used once, not as a daily changer. This is where snap edge frames have their place in the sun. Intended for quick changes on the fly, these graphics displays feature front-loading capabilities. Whether mounted to the wall, hung from the ceiling, or placed out on the sales floor, snap frames can be left where they are easily accessed thanks to the four independently-opening sides. Imagine the relief of the store manager having to swap out prints in their wall frames, all without needing to remove them.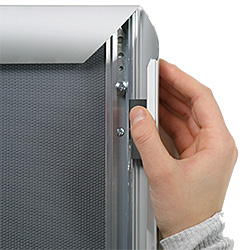 In addition to the interior wall mount models, what other types of quick-change holders do we sell?
Snap edge frames designed for exterior use are also available. Their construction features a rubber gasket along the inner perimeter to help keep moisture out. A locking screw, located on the bottom of the frame, secures the display and prevents unwanted tampering. The largest models are designed for displaying vinyl banners. These come with a complex internal mounting system consisting of clamps and stretchers which latch onto the vinyl material and make it nice and taut.
Hanging poster rails offer an economic way to display graphics behind windows or above store aisles. These consist of a top and bottom snap-open rail which clamp down on the sheet for a stable and seamless presentation. Hanging chain and hardware (included with purchase) allows custom placement for advertising inside storefronts.
Advertisement floor stands offer yet another way to use these quick-change frames. We took our standard wall mount styles and attached them to stands and posts in many different designs. Browse straight or curved poles with or without tilting brackets and adjustable height features. These free-standing displays are placed strategically near store entrances, showrooms, and mallways. The stands support signs ranging from 8.5" x 11" to 24" x 36". Larger kiosk-type displays can hold full length graphics up to 77" in height.
Snap edge frames are some of the most popular products for retailers, movie theaters, boutiques, and more. Just beneath the extruded aluminum frame sides are spring clips that are responsible for the spring-loaded action. This hardware is simple and looks like small rectangular pieces of thin steel. Once they are pressed between the face frame and internal channel, instant spring-loaded tension is achieved. To use, lift up each side independently to remove the clear non-glare lens. Insert your graphics on top of the back panel, replace the lens, and flip the sides down to hold everything in place. When compared to standard rear-loading, snap frames take less than 30 seconds to quickly swap graphics.
The majority of snap frames for sale come in wall mounted styles, ranging in sizes from 4" x 6" on up to a very large 40" x 60". Made for interior use only, these poster holders feature anodized finishes in black, silver, and a special wood-grained style. The frame profiles come in flat or curved models, as well as a number of fancier versions with two-tone designs and more decorative moldings.