Wipe Boards
---
Wipe Boards are Used in the Office, Classroom & Beyond
Engineers, CEO's and teachers will tell you, one of the most effective presentation and display tools that can be used in the office or school is the wipe board. Easily mark ideas and reminders on these boards and wipe away with a dry erase marker to clear out room for additional markings. Many employees prefer to draw freehand on wipe boards to design blueprints, visualize abstract ideas or simply use as a record-keeping device. Since the same board can be used again and again, there's no need to clutter up walls or use valuable space with non-erasable posters, memos or calendars. Many prefer to take photos of the wipe boards before erasing, and upload the file to cloud storage to preserve, share and access it at a later time. These dry boards can be made from melamine, tempered glass or steel, and are offered in many sizes and designs, including wall mounted, floorstanding and A-frame easels.
There are many different factors to consider when purchasing a dry-wipe board, and the one ultimately decided upon will need to fit the purpose for which it's being used. Will it be used indoors, in the classroom or board room? Does it need to be portable or should it be stationary? Perhaps additional notes or attachments will need to be appended to the wipe board, in which case it should be magnetic. Double sided pen boards allow the scribe to flip the board around for additional room if necessary, and can be invaluable during client presentations or lectures. Easily wipe away erasable marker on a glass wipe board with a futuristic appearance. These boards are often used in higher education and technological startups with their professional appearance and modern display qualities.
Black wipe boards are now commonly being introduced as an alternative to whiteboards. The neon colors create bright displays for a bright and vibrant presentation or sign, and the wet erase feature leaves a streakless cleanup. Retail stores and restaurants like to use these as advertising displays for promotions or menu items. Position a double sided black wipe board next to the register of your cafe to list the latte and muffin specials for your regulars.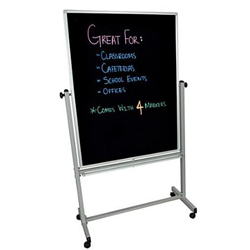 Browse the selection of quality boards here, and make sure to visit our popular categories of erasable marker boards, both dry and wet:
Black Wipeboards
Wipeboard Cabinets