Glass Dry Erase Boards - Fixtures for the Modern Business
Write-On Boards for the Modern Business or Office Space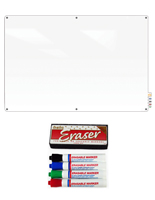 Modern business fixtures like glass dry erase boards are popping up everywhere. While these cool office furnishings are most commonly linked to high end law firms or high-rises in bustling metropolitan areas, they can really be used in a myriad of other applications. Glass boards for classrooms are sought after by more and more facilities everyday like corporate managament locations, financial institutions, and government offices to name a few. Why? Because it's true that when your environment looks tidy, sharp and clean it's much easier to gain the trust of your potential clientele; so making sure your space is furnished with modern business furniture is an easy way to make a great first impression. We carry all of the fixtures with glass writing board surfaces you'll need to outfit your location. From rolling mobile units to wall mounting boards in a ton of size options to super-cool write-on tables for your training areas or collaborative spaces — we've got it.
Common business types who outfit their space with clear whiteboards?
Real estate offices
Law firms and legal service providers
Corporate healthcare operations as well as private practioners
Management companies
Financial institutions
Schools and universities
Dry wipe boards are a useful tool for any professional who needs a quick, easy-to-view workspace when sharing information is the main objective. Browse from the many options available at Displays2go and modernize your space!