Posted on 15, August, 2023
Last Modified on 31, August, 2023
Shop Products from This Guide
Environmental consciousness is rapidly shaping business practices and consumer behavior. Adopting eco-friendly initiatives has become a key part of cultivating a responsible business identity. Trade shows, a place for showcasing innovative products and services, offer a great opportunity to put your commitment to sustainability on display. Designing an environmentally friendly trade show booth can capture the eyes of eco-friendly consumers and align with your business's sustainability goals. In this guide, we will dive into how to create a captivating eco-friendly showcase for your booth.
Materials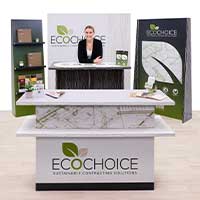 Creating an eco-friendly trade show booth begins with choosing the right materials. Opt for sustainable and recyclable materials—reclaimed wood, Xanita board, paper board, cardboard, recyclable metal, recycled acrylic, cork, steel and anything biodegradable are excellent alternatives to plastics and traditional metals. Materials with sustainable certifications, such as FSC-certified wood, can also show your commitment to sustainability. If you want to offer any giveaways, ensure they align with your eco-friendly concept by giving away reusable items like custom water bottles and tote bags, and be sure to avoid single use plastics that might end up in landfills.
Energy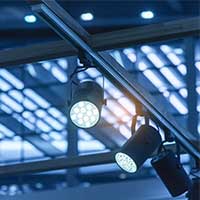 When it comes to saving energy in your trade show booth, using less electricity is key. Incorporating energy-efficient lighting systems, like LED lights, conserves energy and reduces waste, as LED bulbs have a longer lifespan than traditional lighting, like incandescent or halogen bulbs. To further your energy saving initiatives, try to utilize natural lighting if possible. For outdoor events and shows, consider using products powered by solar panels. Electronics and lighting with an Energy Star certification have been verified as energy efficient.
Go Digital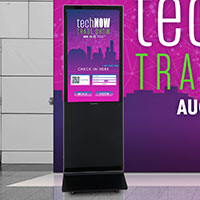 Consider replacing your printed banners and posters with digital signage. Not only will you reduce your paper waste, you'll also offer an innovative and interactive way to engage your booth visitors. Digital signage can be updated with a click of a button and can provide you years worth of usage for all your shows compared to traditional printed signage that needs time to develop and process.
Reduce, Reuse, Recycle, or Rent
The most environmentally-friendly trade show booth is the one you already have! No matter what, buying new always takes up more materials and increases your carbon footprint more than just reusing the fixtures you own. So here's how you can practice the classic three R's: reduce by looking for products that use minimal packaging and contain no plastic packing materials, purchase backdrops and counters you can reuse over and over again by simply refreshing the graphics, and recycle outdated printed substrates easily by choosing products with user-friendly setup and breakdown procuedure.
Creating an eco-friendly booth also extends to the world of booth rentals, where exhibitors can blend innovation and sustainability. Choosing to rent out your booth aligns perfectly with green practices as it will reduce the demand for new materials and can minimize waste. Booth rentals offer a culture that is resourceful and decreases carbon footprints relative to traditional one use booths. Additionally, rental companies are increasingly incorporating eco-friendly materials. Here at Displays2go, we offer rental options that help save costs on storage and maintenance fees.
Collaborate and Educate
Choose suppliers who share your commitment to sustainability. From materials to energy saving technologies, ensure that every aspect of your booth aligns with eco-friendly practices. At Displays2go, we are committed to providing sustainable Greenprint products for events, retail, and more to help you reach your environmental goals. Use your trade show booth to educate attendees about your company's sustainability initiatives and environmental benefits of your products and services.
Build Your Eco-Friendly Booth
Our carefully selected collection of environmentally friendly products reflects our commitment to offer you options that align with your values. Explore some of our products to start your eco-friendly booth:
Shaping a Greener Tomorrow, One Booth at a Time
Now you know how to design an eco-friendly trade show booth that not only attracts visitors but contributes positively to the environment. Putting your commitment to sustainability into practice sends an impressive and influential message to your audience and encourages others in your industry to adopt sustainable solutions. As we continue to unite for a greener future, your trade show booth can inspire innovation and conscientiousness. Check out even more of our eco-conscious trade show supplies and fixtures to support a greener future at your next show!