Posted on 08, November, 2021
Last Modified on 17, February, 2022
Are you a new small business owner looking to boost awareness of your brand? Attending an event like a conference, festival or craft fair can help to put your business in front of a new and engaged audience, build your customer base, and boost your brand recognition. In this article, we'll discuss the fundamentals of promoting your brand at a trade show.
Know Your Audience, Where They Are, and How to Appeal to Them
Your first step in understanding how to promote your business at an event is to do some quality research. Before deciding what festival, craft fair, or trade show to attend, take the time to analyze your audience and what types of events they may attend. Check with your local chamber of commerce and small business association to see what events are available in your vicinity. If you own a crafting business be sure to check out craft fairs or festival directories like festivalnet.com to see a variety of events that align with your products. If possible, attend a few yourself as a consumer to see what competitors are present and what attendees expect from them. If you are not able to attend, take advantage of content posted on social media platforms like Facebook, Instagram, Tik Tok, or Youtube and look into any content that lends to your research by searching the hashtags for the event to get insight into what these festivals or conferences look like, who is attending, and what people are saying about them.
Things to make a note of during your research:
Booth styles
Branding
Competitors
Value Propositions
Giveaways
The Audience
Position Your Brand and Products for Success
Now that you have completed your research and picked the best event to promote your products it's time to prepare your booth setup. It is important to present your start-up's branding in a way that it is easy to see both up close and far away. Incorporating your brand colors into the display items you choose is an effective way to make sure you are instantly recognizable. Custom printed table covers, tents and banners provide space to show off your logo, colors, and slogan.
Promote your business at an event by presenting your products in display solutions that will allow for an easy shopping and browsing experience for your booth visitors. Depending on your product selection, items like retail shelving racks, tables, and chalkboard signage can be used to organize your products and call out your most important sales messages.
Entice Your Booth Visitors
You've drawn some attention to your booth and now you have a good flow of customers stopping by with questions.This is a great opportunity to build leads and relationships. Include personalized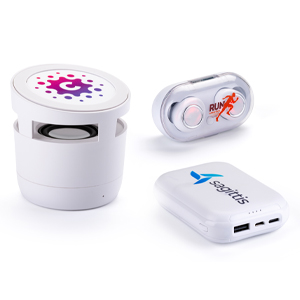 promotional gift items with each sale so that your customers have an item that is not only useful but memorable. In addition, be sure to use literature holders or magazine racks to keep your catalogs and marketing materials organized so that you can quickly pass them out to each visitor. Connect with your customers by talking about what makes your brand unique—share your story! Being relatable and personable will help your patrons feel comfortable and remember their conversation with you.
To create even more buzz, host a giveaway! Collect entrants' emails and let them know what time you will announce your giveaway winner. This will create a more exciting and fun shopping experience that will be sure to help your brand stand out from the rest. Don't be afraid to get creative with your giveaway! Incorporate engaging trade show games like mini-golf and pinball that are sure to draw a crowd to your booth. Providing an interactive experience will be likely to increase the number of entrants.
Turn Your In-Person Event Customers into Online Customers
Remain connected with your booth visitors and customers by ensuring your social media handles are displayed or provided. An easy way to do this is to present business cards in a business card holder or display a customized QR code sticker that brings patrons to your website. If you are able to get permission from your giveaway participants, add them to your marketing email list. This will keep them informed of future event appearances, new product launches, sales, and promotions.
By incorporating these four steps into your process on how to promote your business at an event you should be able to engage with a new audience, build your customer base, and increase your brand awareness. Get empowered to take on your first trade show, craft fair, exhibit, or festival by reading more about how the owners of Two Tusks Co. were able to start their small business from home and then bring their products to market at local events.