Posted on 28, April, 2023
Last Modified on 02, May, 2023
Are you looking for durable outdoor shade for unpredictable weather conditions? Canopies range from occasional-use residential options to high-performance commercial-grade tents that are designed to withstand heavy use in business environments. The features and properties of your tent are important to understand and we're here to break down the materials, features and certifications you may see while shopping for shade for your next event. One thing's for sure, whether it's rain or shine, we've got you covered!
Tent Frames
The heart of a tent is the structure that frames the tent itself. Most tents have frames made from aluminum or steel. So what's the difference?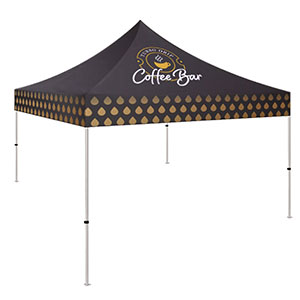 Steel
Steel frame tents are great for leisurely activities or more casual use, which is why you'll find many of these tents at your local sporting goods store. Steel is about 3 times heavier than aluminum and has a lower strength to weight ratio, so a steel tent will tend to be less strong than an aluminum tent frame of an equivalent weight. Steel tent frames tend to be thinner than aluminum, which can be good for portability, and the price point is almost certain to be cheaper. If you're only going to use your canopy a few times a year it may make sense to save on costs and go with a steel frame.
Aluminum
When it comes to tent frames, aluminum is considered to be the commercial-grade choice. Since aluminum is a lighter metal than steel, the walls can be more thickly extruded, which provides more strength at a lower weight than steel and protects your frame from handling damage and wear and tear. Aluminum also doesn't hold heat as long as steel does, so on those hot sunny days you can be assured to have shade with a cooler frame. Aluminum is resistant to rust and corrosion, making it easier to maintain and keeping your frame looking brand new for years. If your canopy is going to be set up for long periods of time, or will get repeatedly used throughout the seasons, an aluminum frame is a worthwhile investment.
Inflatable Tents
Can't decide on an aluminum or steel frame? Try an inflatable dome tent. This type of canopy doesn't require any poles and can be set up in a few easy steps. Check out our inflatable dome tent!
Fabric Material
Now that you've decided on your frame, the next important factor to consider when shopping for a canopy is the fabric material it is made from. With a strong frame you need a strong and beautiful canopy to go with it.
Fabric Denier
First let's determine how strong the fabric is. Look for the denier of the fabric as the measurement of how thick and durable the fabric is. It specifically determines the weight of each fiber, or thread, in the fabric.The higher the denier, the heavier the fabric will be. Fabric weight will determine the amount of protection you need, and heavier fabric will have the strength to hold up in extreme conditions. While many residential tents may have less than 100D, for a tough, durable commercial canopy, a denier of 200D or more is recommended. While a higher denier will mean a heavier canopy, you can be assured it will stand up to the elements.
Polyester Material
Polyester is the most common type of fabric used for canopies. Its durable strength and water resistant capabilities provide great shade and rain protection. Due to its lighter weight and foldability, polyester tents will be easier to set up and transport to your event. It retains its shape when wet and is resistant to wrinkles and mildew, but it can be less breathable than other materials. Polyester disrupts UV light and offers sufficient protection against the sun's rays. Additionally, polyester is one of the most budget-friendly canopy materials.
PVC/Vinyl
PVC (polyvinyl chloride) is also commonly known as vinyl. It offers the most protection from the harshest weather conditions. PVC is heavier than polyester, but it's completely waterproof and UV resistant. The additional weight does mean PVC tents can be more difficult to transport, but it will cover you from the sun's hot rays, heavy rains, and will be ultra-resistant to rips and tears. You'll find PVC tents at commercial and large events like trade shows, weddings, graduations, and more.
Certifications & Ratings
When looking for the right tent for your event, you want to make sure it not only passes the test, but gets an A+. Commercial grade tents are often put through multiple tests and may achieve some key certifications that indicate how capable they are of withstanding the elements.
CPAI-84 Flame Certification
The CPAI (Canvas Products Association International) is more commonly known as the Industrial Fabrics Association International (IFAI). This association sets the standards for flammability of tent fabrics. The CPAI-84 certification tests the fabrics flame resistance after it is subjected to a flame. To get certified, manufacturers are required to send material out to a licensed third party testing center. More likely than not, fabrics will have to be treated to be flame retardant to get this certification. Flame resistant fabrics are naturally nonflammable. To dive more into flame resistant vs. flame retardant, check out our article. If you're planning on using your canopy near an open flame like a fire pit or grill, a canopy having a CPAI-84 Flame Certification is a wise decision.
Hydrostatic Pressure Certification
This certification is used to test the material's resistance to water penetration. While applying water pressure, it will measure its strength by how high the pressure is. It will also test for leaks to find spots of weakness. Canopies that are hydrostatic pressure certified will be able to withstand rain storms and protect your valuables in the event of a rainy day.
SGS Colorfastness Certification
This certification is used to test how fast the material will lose its color under certain conditions. Canopies provide great shade during those hot sunny days. Being SGS colorfastness certified will give you peace of mind that your canopy's color will not fade quickly and will remain bright and vivid after many days in the sun!
Wind Speed Rating
Whether it's a sunny day or a rainy day, the wind will most likely be a nuisance!. The wind speed rating of a canopy will tell you how well it can withstand levels of wind without collapsing and is measured in miles-per-hour. Look for canopies that can hold up in 20-30 mph winds.
IP Rating
IP stands for ingress protection and it tests how well a material protects itself from elements that are solid or liquid like dust and water. Check out our downloadable infographic guide that breaks down each level of the ratings here. Most of our canopies have an IP04 rating which indicates it is protected from splashing water or sprays. Canopies with this rating are also not tested against any solids.
Features
Now that we've covered the most important factors that make up a canopy, let's dive into some bells & whistles and aesthetics. At Displays2go, we have canopies with many features to choose from including various sizes, colors, custom designs, and more.
Custom Printing
Our stand-up canopies come in one color or your own custom design. Whether you are looking for an aluminum or steel frame, you can design your canopy as needed. Our customizable canopies can present your canopy with your logo, design, or promotional message. Custom canopy design can easily be changed or replaced as your brand evolves. Our full color custom printing provides a vibrant eye-catching design for all your events.
Carrying Cases
One of the most important features of your canopy is its portability. After all, if you're buying a commercial tent, it's most likely not for the backyard! Most of our canopies come with a heavy duty carrying case that not only holds the canopy, but all its accessories. Some of the larger canopies have cases with wheels for easier portability that don't require multiple people to transport from your vehicle to your tent location.

Assembly & Structural Features
Hand Crank
Our height adjustable stand up tents feature multiple height settings to accommodate your event needs. An ABS Center Mast Crank included makes it simple to set your aluminum or steel frame at your desired height. These frames have telescoping legs that slide up and down into your desired height level.
Pull Pins & Push Levers
The telescoping legs of the tent frames have a push and pull feature that helps lock the frame in place. The pull pins will lock into place until released or pushed in to move the legs up or down. The push levers provide extra strength and security to lock and hold the legs in desired position.
Please note that accessories will vary depending on the type of canopy. Pop-up tent accessories may include hook and loop fasteners, clamps, rope, and a hand crank for easy setup. The inflatable tents will include an air pump and weight bladders. All canopies will have stakes that help secure your tent in the ground for stability.
Walls
Most of our canopies also have the option to purchase additional walls for optimal coverage. Whether you want a basic wall, custom wall, or even dome sized we have all options available. These partitions provide protection for multiple sides from unpredictable weather and present more real estate to promote your brand!
For our 10' x 10' stand up canopies, we also offer a transparent 4 piece mesh wall kit. If you are looking for a durable and breathable solution to keep bugs and debris away, the mesh walls will keep you protected from all angles. One wall provides a center zipper the length of the wall to allow easy in and out access to your canopy. The other 3 walls have 2 zippered windows for transactions in and out of your canopy.
Summary
You want the best protection from outdoor weather conditions. Now that you know about the differences between outdoor canopy frames, fabrics, and certifications, you can make an educated decision to pick the best outdoor canopy for your next event! Shop all of our canopies here!