Full Vision Display Cases with Large Areas for Displaying Merchandise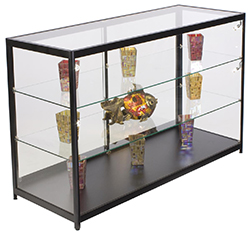 Retail Cases with Full Vision Merchandise Displays
Need to feature all of your wares with high visibility fixtures? These full vision display cases maximize merchandising space in retail stores. Each showcase's internal area is entirely visible, meaning it's designed for displaying products to customers. The full vision display cases with tempered glass panels are excellent for directing attention to electronics, makeup, watches, and antiques. Jewelry stores, movie theaters, and vape shops all use this style of cabinet to feature as much stock as possible. Our full vision display cases are ideal for displaying large quantities of merchandise in one place with high visibility.
What types of tempered glass cabinets are offered here?
Freestanding full vision display cases are excellent for featuring loads of merchandise. These tall cabinets feature ample space for large wares or vast collections of smaller items. The showcases are often placed in the center of rooms where customers can walk around to view jewelry and electronics. Alternatively, the tall merchandisers are featured against walls to save floor space.
Our full vision case counters let retail stores exhibit merchandise at the point of sale. These high visibility checkout stands put wares where people are sure to see them. By featuring products by the cash register, interested patrons can ask the cashier about specific items. Customers can ask to see watches and jewelry up close or ask for more information about the electronics featured below.
Full vision cases with maximum visibility are called "extra vision" showcases. This style features clear tempered glass panels on all sides except the back. With the added visibility, customers can see merchandise from all angles. Extra vision cabinets are available as freestanding units and counter models, with both framed and frameless designs. Highlight your best wares with these displays that make them impossible to miss.
What features make these merchandising showcases excellent for retail stores?
Locking doors — Protect valuable electronics and jewelry with secure points of entry. Browse units with single and double locking doors.
Lighting — Merchandisers with lights put high interest items in the spotlight... literally! Choose models with energy efficient LEDs that save money over time or ones with halogen bulbs with a lower initial cost. Pick between top and side lighting or go with both!
Adjustable shelving — Sometimes we need to sell things that are too big for normal shelves. Accommodate large handbags, antiques, and electronic devices by removing shelving for more space.
Door style — Retail cabinets are available with either swinging or slide-open doors. Choose the style that best suits your store's size requirements.
These cases maximize any stores' merchandising capabilities. There's no better way to feature large quantities of stock in one place. Make sure customers notice your wares with frameless retail cases with tempered glass panels, shelves, and doors. This style never blocks products from sight no matter where patrons are standing.