Ultra Modern Garment Racks in Ladder-Style, Single- and Tiered Layouts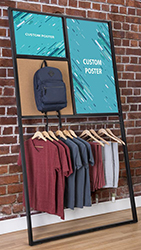 Bohemian-Inspired Modern Clothing Racks — Single and Multiple Garment Rails with Vintage Urban Style
What type of display furniture will make merchandise more enticing right off the bat? We love our modern garment racks with a straight rail design and open layout that makes every hanging item visible to the customer. These store displays have a popular "boho" feel to them that will up the style ante on any boutique floor. These modern garment racks feature wood or metal construction in a variety of decor-enhancing finishes. We offer rustic wood display stands with rich finishes, industrial-look tiered steel displays, and our cottage-inspired MDF store fixtures are even cute enough to use at home! Whether you're showcasing a collection of hip dresses for young women or introducing a line of Italian silk textiles in a designer showroom, this stylish store furniture adds character to a collection of apparel or textiles.
What retail display styles can I choose from to outfit my boutique?
Teepee-inspired modern garment racks have an open straight rail design with a rectangular base. This is a charming A-frame-style clothes stand for short and long skirts, pants, dresses, blouses, scarves, or whatever hangs on a hanger off the top rod. These rustic store fixtures are lightweight and easy to move around a shop. Call out a hand-woven carpet or a winter coats collection with these unique and eye-catching wooden displays.
Ladder-style rail stands with an angled design are perfect for draping textiles like wool blankets, silk draperies, high-end or unique fabric, or pairs of pants and other clothing that are usually displayed folded. Equipped with five hanging rods, this multi-rail fixture takes up a small footprint which makes it ideal for smaller shops. This rustic display rack includes rubber feet at the base to prevent slipping while it leans against the wall.
Cottage-style store clothes racks have a minimalist rectangular design with one rod, and puts the spotlight on a small grouping of special items. This contemporary vintage hanging system has lightweight construction that makes it easy to change store configurations on the fly. The design has a light and airy appearance that adds adds a modern flair to the decor. This boutique fixture has a small footprint so retailers can make the most of the display space on the floor.
Dual rod cottage clothing stands are tiered for visually grouping garments by color, type, or size. A two-foot rod system serves to steady this portable clothes rack when apparel is hung or browsed. This box frame style of furniture is great for small stores that want to call out new, popular, or sale merchandise.
Freestanding metal clothes racks are partitioned with a wood pedestal where additional goods can be displayed. A generous area for hanging clothing makes this minimalist store fixture a great find for smaller apparel and accessories shops. The "open concept" design helps get featured items seen by customers! Measuring 66"w x 84"h, these open-style stands highlight a generous amount of goods without visually cluttering up the store layout.
Leaning metal clothing displays with signage features two sign areas above and a cork board square and hook for highlighting accessories like backpacks or purses that are related to the displayed clothing. The single bar displays clothing in full view so nothing gets overlooked. These racks present merchandisers with a clever way to promote and display merchandise from one space-saving fixture.
Hang table cloths and runners, draperies, rugs, blankets, and all manner of apparel including long dresses and coats with these unique rustic and cottage-style display stands. Outfitting your store with open-configuration store fixtures is easy, thanks to lightweight construction that makes it easy to change your mind about placement. Unique fashion-forward styles will no doubt make outfitting your retail space some of the best fun you'll have as a retailer! These versatile clothing display fixtures fuse contemporary and retro styling to help make a fashion-forward statement on any boutique floor.