Posted on 03, December, 2015
Last Modified on 27, February, 2022
We've all been there - stuck in bed, feeling absolutely horrible, regretting every handshake for the past week. Getting the flu is the worst. And unfortunately, flu season is upon us whether we're ready or not. Besides getting a flu shot, the Centers for Disease Control recommends taking preventative actions to stop the spread of flu germs, like hand washing. And while frequent hand washing is one of the best ways to avoid contracting and spreading the flu this season, many of us are so often on the go, that stopping to wash your hands is not always possible. However, when washing with soap and water is not available, the Centers for Disease Control and Prevention recommends using an alcohol-based hand sanitizer. Public places like office buildings, schools, and stores should listen to the expert and make hand sanitizer dispensers readily available and easy to use this flu season!
Importance of School & Office Hand Sanitizer
We lead busy lives. Especially around the holiday season, during the peak flu season of December-February, many of us are constantly on the go. It can be difficult to remember to wash your hands before chowing down on a sandwich at your desk, or grabbing a pretzel on the go at the mall. Children especially may not realize how important it is to properly their wash hands while at school. And we all know, if one kid in a class comes down with the flu, it's very likely that others in their class will also fall ill. As teachers, bosses, and store owners, you have a responsibility to offer effective alternatives to hand washing this flu season! Help protect your students, employees, and customers!
If soap and water are not available, use an alcohol-based hand sanitizer that contains at least 60-95% alcohol.

- CDC (Source)
Reasons to Use Hand Sanitizer
Both the Centers for Disease Control and Prevention (CDC) and the World Health Organization (WHO) recommend using an alcohol-based hand sanitizer when soap and water is not available for hand cleansing. Additionally, the CDC recommends that children in school may use hand sanitizing rubs as an alternative to handwashing. In fact, the American Journal of Infection Control conducted a study on the effects of hand sanitizer use on absenteeism in schools. The results were incredible. Among 16 elementary schools and 6,000 students, researchers found that the use of hand sanitizer gel in classrooms reduced absenteeism by a whopping 19.8%!
Elementary school absenteeism due to infection is significantly reduced when an alcohol gel hand sanitizer is used in the classroom as part of a hand hygiene program.

- Oct, 2000 Study (Source)
How to Use Hand Sanitizers
Apply the gel or foam to the palm of one hand
Spread sanitizer between hands until both are thoroughly wet
Rub hands together vigorously until the solution has dried
Note: The CDC does not recommend use of hand sanitizing gels when the hands are visibly dirty.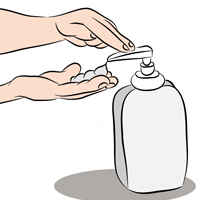 Try out these sanitizer dispensers!