Product Information

---
| | |
| --- | --- |
| Graphic Panels | 9 Squares |
| Print Options | Full Color |
| | |
| --- | --- |
| Printing Type | Digitally-Printed |
| Printing Area | Full Bleed |
Template Files
Filename
: trwdl3x3a_illustrator_templates.zip (8.11 MB)
Filename
: trwdl3x3a_photoshop_templates.zip (4.69 MB)
Artwork Guidelines & Instructions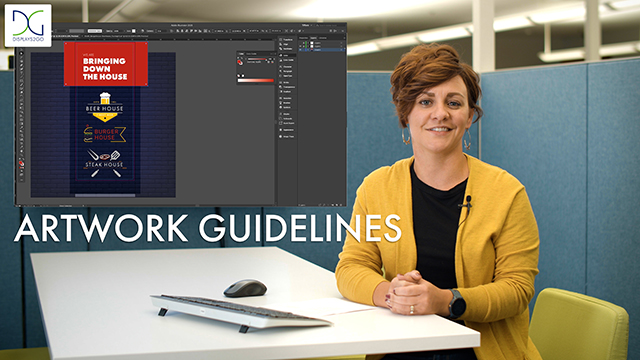 How to Submit Artwork for Custom Printed Products
Accepted File Formats
Adobe Illustrator CC (or earlier) - .ai or .eps
Adobe Photoshop CC (or earlier) - .psd or .tif
Photoshop files should be 100-120dpi at full output size. (Click here for more info on DPI and other artwork tips.)
Do not embed color profiles.
Provide a layered file.
When using stock photography images, be sure to purchase the highest resolution version that your budget will allow.
We use CMYK printers to create these graphics. 100% reproduction of defined colors is not possible. Differences between colors in the printed and original file can occur at many different stages. Variations in color or shading are often a result of viewing on un-calibrated equipment (monitors, printers, etc). Colors will often appear different when viewed on two different monitors or output devices. Without accurate color information, we have no way of ensuring that expected colors will be achieved.
Indicate Pantone Values for all critical colors. Click here for Pantone (PMS) color definition. (Click here for an example.)
It is recommended that all text and important images be positioned at least 5" from the edge all on 4 sides of each fabric panel. This is called the focus area. The entire surface of the fabric panel will accept images, however, the focus area is free from button holes and sew lines. The focus area is also the area where the "X-Factor" is least apparent.
An e-proof is provided once artwork is approved.
Process
Artwork should be submitted the same day the order has been placed to avoid delays.
After receiving your file, it will be reviewed within 24-48 hours for printing requirements. If the file does not meet all necessary requirements, you will be contacted by your representative.
If corrections are needed, you may make these changes yourself and resubmit the file or choose to have us make the corrections (design services fee may apply).
After the file has been approved, we will send a proof to you for your approval.
After we receive proof approval, production lead time begins.
Once your item is through production it will be shipped according to your selected shipping method.
Please note, artwork approval, production time & shipping time all affect how quickly you will receive your product.
Artwork
Please indicate any special positioning requirements of your graphic on the product.
Individual program requirements:

Illustrator - convert all fonts to outlines & embed all images.
Photoshop - rasterize all fonts.

File color mode must be CMYK. If requesting Pantone matching, please provide a layered file. This allows us to make minor color corrections if necessary.
Please send only files that are used in your graphic/design.
Due to variations in output and viewing devices, there is no guarantee of 100% color match. We are unable to guarantee printed colors will be as they appear on your monitor, printer, or other viewing method. We cannot guarantee color matching to previously ordered units.
Submission
The easiest way to submit your artwork is to do so directly on the product detail page. However, you can also send it to us after placing your order. If you submit your files after placing your order, please compress all files and folders using the ZIP file format and name the file using your order number (ex: WEB100234569.zip).
How to submit artwork after placing your order: