Gift Card Displays & Prepaid Card Racks - Acrylic & Wooden
---
Gift Card Racks - Countertop Displays With Slots and Hooks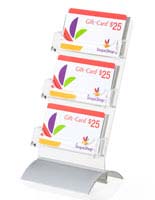 Any place you go today you can find prepaid gift cards - there is hardly a store that does not offer a wide selection. These prepaid cards have risen in popularity over the past couple of years and will only continue to do so. Use gift card racks, known as prepaid card stands to display them on countertops. Coffee shops, grocery stores, convenience stores, toy stores and hardware stores, just to name a few, carry these gifts. When you don't know what to give as a gift, prepaid cards let the receiver chose what they want. Our gift card racks were designed to display a variety of cards. Various pocket amounts and styles are available on these prepaid card stands to accommodate any needs. These stands are designed for countertop use and feature either hooks or pockets to display cards. A variety of fixtures for cards, from countertop to floorstanding, are available in our online catalogue. Display your multiple denominations, designs or store options in one of our specially designed displays. If you need a holder with pockets or peg hooks we can help you out. Each choice includes a place to post a sign and advertise your cards. If you don't see a design that fits your needs we make each of the above displays in-house and can custom design one for you. Our custom design team can quote within hours not days!In addition to these displays, we manufacture a huge variety of store displays including racks, sign holders, poster stands, and carts.
Where are these prepaid card stands commonly used?
Gift card racks are popular to use at department stores, like Target® and Kohls®
Gas stations sell cards for users to put prepaid amounts on them and help consumers budget monthly spending on gas.
Coffee shops allow people to load up cards, and make great last minute gift purchases.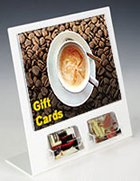 Giftcard racks can be used to display prepaid cards as well. Many gas stations and coffee shops, or other stores where people commonly purchase personal charge cards for themselves, can showcase their cards right at the checkout counter. Placing themed cards to go with the season is a great way to increase sales. Many of these displays feature numerous pockets, so therefore you can showcase multiple card designs on one countertop stand. The sight of a prepaid card stand can remind customers to check their remaining balance, and possibly remind them to refill their cards. By customers merely catching a glimpse of one of these store fixtures, they can be prompted to spend more cash in several different manners.
Gift card displays can be placed conveniently right near cash registers. Prepaid cards are often popular birthday and holiday presents. Using the stands can help increase POP sales, and consumers will be prompted to make a last minute purchase. By placing a stand at the register, it is easier to make sales for several different reasons. Customers near the counter are already going to be making a purchase, therefore it will be that much easier to get them to spend some more money. Point of purchase displays also virtually guarantee that paying customers will at least see the stand. Once a gift is in the back of someone's mind that much more likely to subconsciously come to the decision to make the purchase, whether right away or further down the road. Gift cards also make great presents, because people that receive them have the freedom to purchase a wide variety of items.