Office Sign Brackets and Mounts Help Your Signage Stand Out
---
Brackets and Mounts for Hanging Signage in Commercial Environments
Looking to give the plaques and nameplates in your establishment more visibility? Office sign brackets and mounts offer a solution to making your signage stand out. These nuts and bolts create standoffs that give your signs a three-dimensional appearance. Office sign brackets and mounts are designed with a sleek and stylish appearance while achieving a high-visibility angle to hold your signs. Any organization with customers entering and exiting their facility would benefit from standoffs for their informational and directional signage. These brackets and mounts are ideal for hanging signs in any hallway, corridor, or lobby in commercial environments.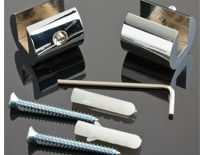 What types of standoffs to hold signage are available?
Flag-style office sign brackets and mounts are available in clamps (sets of two). These come in finishes of chrome and satin and are designed for the signage to slide in horizontally so only one side of the plate is held on the wall.
Rail-style standoffs come in 2" and 4" wide lengths and have slits in the middle to display signage. This spacer props the plaque away from the wall to give it a three-dimensional appearance for higher visibility to passersby.
Illuminated standoffs in 3 1/8" and 7 1/8" wide lengths offer extra light in dimly lit hallways and corridors — or just add a spotlight to your signage.
Durable iron sign holders with a rail-style construction can be used either on a countertop or mounted on a wall (vertically or horizontally). This multifunctional standoff is both easy to use and attractive to passersby viewing directory signs.
It's important to know the names of your co-workers! Cubicle name tag holders adjust from 2" to 3.5" to snuggly fit over any wall. We have single-sided and double-sided options.
We supply sign supports with all the hardware necessary for fully mounting a sign. Each comes with spacers, screws, anchors, and an Allen wrench to tighten the set screw. Signs may be made of acrylic, metal, wood, or plastic to place in our standoffs. There is little restriction on the type of sign that can be used. Not only does this collection of standoffs display signs in a contemporary and stylish manner — they do it at an incredibly low price. We stock mounting hardware in bulk. This results in unbelievably low prices for our consumers. Looking for other high-visibility signage? Hanging poster rails are a great way to display larger signs and notices — without lacking the ability to be seen clearly by passersby. Like what you see? Shop online at Displays2go.com to browse our selection of signage hardware!