Sign Mounting Hardware, Including Standoffs, Bases, & Cable Hanging Systems
---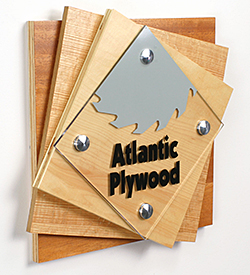 High Quality Mounting Hardware for Rigid Sign Panels, Posters, and Name Plates
What is it about sign mounting hardware, such as metal standoffs, that makes them so attractive to designers and installers? They embrace the duality of form vs. function. Their purpose is to function as simple fasteners while becoming an integral part of the design and overall presentation of the finished form. What are sign standoffs? They have been used for marketing and advertising displays, corporate artwork, and wayfinding systems in every conceivable professional setting. What separates them from typical signage installations is their three-dimensional design. Our sign mounting hardware kits raise and project graphic panels off the wall for a more dramatic and eye-catching presentation. Thanks to the abundance of sizes and metallic finishes, these sleek and modern mounting systems offer interior designers a wide assortment of fasteners to choose from. Use any of the sign mounting hardware kits available in this category to secure name plates, wayfinders, and directories.
What kinds of display hardware mount signage off the wall?
Sign mounting hardware that require holes for installation are the most common style. Machined from aluminum and both steel and stainless steel, the mounts come in a nice variety of colors. The aluminum models feature anodized finishes in satin silver, titanium gray, and black. Steel standoffs come with electroplated finishes like chrome and gold with mirror-like surfaces. The stainless steel types feature the traditional brushed finish, with the caps displaying the tell-tale "X" reflection.
Economy mounting hardware is all-aluminum and come with hand-polished finishes. This line's affordable pricing is excellent for creating wayfinding systems in large office buildings.
Edge grip standoffs are the easiest type to install with their "no-holes-required" design. They hold graphic panels at the edges, therefore not needing holes drilled through the panel, however these models can't support as much weight as the "through" styles.
Signage rails come with horizontal channels for panel insertion. These are excellent choices for smaller graphics. Some models even come with LED illumination embedded inside the aluminum channel. When advertisements need to be seen from both directions, choose a flag mount. These display signs perpendicular to the wall, suitable for hallway, stairwell, and elevator designations.
Want to know how to install your office's wayfinding system? Read our guide on how to assemble and install our DSIGN displays to direct visitors and employees alike. Whether you're creating personal name plates or pointing the way to the bathroom, it's easy to to it yourself.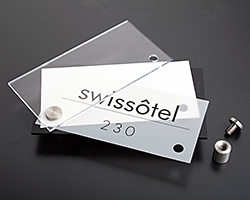 What other mounting hardware solutions are available?
Decorative metal screw covers transform ugly screw heads into a finished, professional display. These install most easily thanks to the special threaded washers that come with the metal caps, available in some of the same metallic finishes as our stand offs.
Cable display systems utilize suspended steel lines that work together to support acrylic sign holders with a number of aluminum support grips. Choose simple, single column kits or opt for multi-column matrices able to display a large number of printed inserts (think real estate listings in storefront windows).
Steel bases are designed to display graphics printed on rigid materials like GatorFoam. The boards insert into the bases to instantly create free-standing displays that can be placed in retail sales floors, convention halls, business lobbies, and airport queues.
Hanging poster rails are the go-to tools for retailers looking to display advertising behind storefront windows. The top and bottom rails attach to the banner and hang from the ceiling not only behind windows but above store aisles, room entrances, and more.
Have a poster to hang but need the hardware to do it? Check out our hanging hardware kits, available in jack chain or nylon line styles. They come in different lengths along with "S" hooks, toggle bolts, and barnacle clips that attach to suspended ceiling grids.
Stylish mounting hardware elevates the quality of any signage installation. Not only can it be used for traditional applications, but think about the many other creative possibilities open to the designer or merchandiser. Use spacers as shelf supports for merchandising risers, or mount them to walls for use as hanging hooks. Their versatility is as unmatched as is their dramatic flair for design.