Hostess Stands for Restaurants and Hotels
---
Hostess Stands and Service Industry Podiums for Restaurants
Looking for a fixture designed to help staff greet customers in a professional manner? Our line of hostess stands for restaurants, also known as waitress stations, are often the first point of contact for customers. As such, it is good to find a service industry podium that matches the decor of reception furniture and blends seamlessly with your interior design. Whether constructed with MDF featuring a woodgrain laminate finish, or featuring a durable steel base with an acrylic top, these hostess stands for restaurants set a professional, decorative tone in contemporary or traditional settings. Service industry podiums also provide a functional "home base" workstation or command center for floor managers and waiters. Our featured hostess stands for restaurants include fixtures with a simple pedestal design as well as more complex configurations with compartments, drawers, and shelves for storing cash, supplies, equipment, and personal belongings. Some of our waiter lecterns are even designed to work with PA systems for notifying guests their table is ready. The benefits of using elegant, yet functional, host podiums reach a variety of industries in addition to food service environments. Hotels, country clubs, golf courses, valet services, concierge services, tour businesses, school campuses, funeral homes, and theaters are among the many operations that benefit hugely from using these versatile fixtures to greet and interact with customers.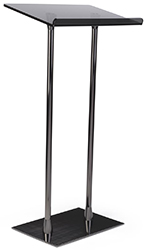 What styles do valet podiums come in and where are they used?
Straightforward pedestal designs are simple and straightforward - park these hostess stands for restaurants anywhere to give waitstaff a place to rest, do light paperwork, or store menus.
Host podiums that double as work stations feature simple open shelving - as well as doors, compartments and drawers. Safely secure schedules, pagers, tablets, adding machines, and personal belongings with our locking cabinets.
Waitress stations with concealed wheels can be tipped to one side and moved by one person across convention halls or large dining rooms. Casters that lock keep the furniture stable during use so your furniture doesn't go for a ride without you.
Valet carts come with key holders that are accessible only to the staff standing behind it. Parking attendants gain easy access, and can also keep ticket stubs and cash out of public reach.
What features help host stations withstand daily use in high traffic, public environments?
Construction and finish are important. Hospitality podiums come in steel, aluminum, acrylic, brass, chrome, hardwood, MDF, and other finishes.
Look for extras like chrome handles and caster wheels to help maneuver the units in large venues in a timely manner so you can stay on task and on schedule.
Maitre D' stands generally feature a classic or traditional style that matches well with more formal dining environments. Host furniture with locking doors keeps tips, tickets, and cash secure; mobile valet stations have marked hooks for key storage.
Some host lecterns have cable cutouts for laptop, microphone, and PA system cords to keep the area clutter free yet functional while in use.
If customer service hires will be using a computer, make sure their work area is outfitted with a keyboard tray or a slide-out shelf, and slide-out laptop shelf (slide it in when not in use for a smaller footprint.)
Convertible pulpits allow the user to unscrew the top from the middle for placement on a tabletop, and easy portability.
Bookstops keep reservation books, tablets, notes, and menus from slipping off the unit and onto the floor, and most of our units have them.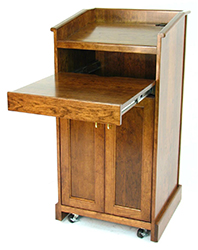 Businesses with staff who, in addition to receiving duties, will be multitasking frequently opt for greeting stations with base cabinets outfitted with a pull-out keyboard tray or side shelf. Light bookkeeping and booking reservations are easier when your workstation is configured to easily accommodate computers, tablet holders, or traditional cash registers. We also offer valet podiums with built-in key hooks and compartments for keeping tickets and tips secure. These units have wheels for ensure easy mobility. Make sure the configuration of your hostess stands for restaurants supports the daily activities of customer service employees who will be "parked" there most of the day. While some workers will have meet-and-greet duties, others will have responsibilities that will need the support of a fully functional workstation, plus a secure area for holding money or personal items. Restaurant podiums come in an array of sizes for compatibility with any organizational footprint.
Provide customers with visual anchorage once they enter an establishment using host podiums with drawers and shelves. Whether sleek and streamlined, or functional as a computer workstation, this reception furniture is solidly built and thoughtfully designed. Most of the units have a slanted reading surface for filling out seating charts and taking notes. Lectern styles vary in style from simple and casual, to sleek and upscale.
Whether used as a single-person base area for greeting and directing customers, or for supporting hospitality activities throughout the day, our service industry podiums are must-haves in any restaurant or cafe. Use these fixtures as check-in counters or speaking stands in hospital seminar rooms, restaurants, welcome centers, and convention halls. Slide-in shelves for projectors and PA equipment turn these stands into functional workstations. Several wireless options with chargeable batteries enable guest notifications without leaving your station. Hostesses can walk around assisting staff and customers while maintaining the ability to chat with and seat guests.
When shopping for reception furniture for your establishment, be sure to remember your entry way! It's the first point of contact for visitors, and the right stand can help make the greeting and seating process seamless. Remember to browse our extensive line of wood MDF, acrylic, and aluminum host stations at Displays2Go.com. Enjoy prompt delivery and timely shipping for all in-stock items. Invest in a statement-making podium, or buy a bunch for a chain of restaurants or hotels at wholesale pricing! Solid construction with a durable scratch-resistant finish and eye-catching styling will put these greeting lecterns on the "go-to" list for food establishment and hotel staff.