Non-Locking iPad Table Mounts for Supporting Tablets
---
Countertop iPad Mounts Hold Tablets for Personal or Commercial Use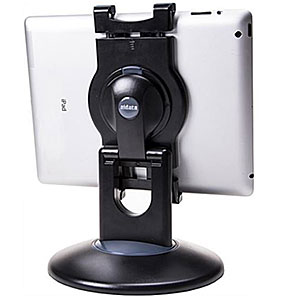 Have you been looking for a simple way to display your tablet without the need for a lock? Non-locking iPad table mounts make the task quick and easy. Whether intended for your own personal use or on a retail checkout counter, these touchscreen holders offer the feature of convenience. Unlike metal or plastic enclosures that fully encase your device, our non-locking iPad table mounts come with a basic clamp or easel stand. These allow for easy access if you need to take your tablet with you, store it away, or recharge it.
What types of countertop tablet stands do we have to offer?
The most straightforward non-locking iPad table mounts feature an easel or stand design for "easy-in, easy-out" performance. Intended more for residential use, these tablet holders are the go-to choice when you want to prop up your device for various applications. Read a recipe, set a timer for cooking, follow sheet music or guitar tablatures, or just wind down with a movie or sports game.
Another great non-locking iPad table mount is the clamp-on power station, suitable for home or work. This model attaches to any desk or tabletop with a hand screw. Beneath the tablet holder is a dedicated power strip featuring three grounded outlets and two USB ports. You can charge your iPad while using it and plug in other items such as lamps, fans, or personal mini heaters.
Tablet mounts that tilt and rotate are an excellent choice for POS retail checkout. Ring up credit card purchases, then swivel the iPad back to the customer to sign their receipt. This back-and-forth capability speeds up transactions for a more streamlined and enjoyable shopping experience for your patrons. While these mounts do not lock nor secure your device, you can purchase the Kensington-style anti-theft cable for added security when used in high-traffic areas.
While our iPad stands are generic and universal thanks to the simple clamp or easel design, they may not be able to accommodate every make or model. We recommend confirming tablet compatibility in each of the product page's specs. But what each holder does provide is hands-free use while preventing your device from falling over. Instead of leaning your touchscreen against something, prevent accidental damage by investing in one of these affordable displays. If you are looking for the ultimate in protection, locking tablet enclosures are the solution for unmanned tables, high-traffic areas, or your peace of mind.