Easel Photo Holders with Tripod, Folding & Slanted Styles
---
Photo Easels and Cheap Picture Frames for Countertop Mounting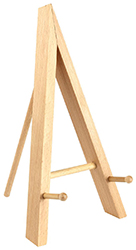 What's the best way to display art work and small advertisements? Stock up on easel photo holders to showcase promotional prints and signs. Our countertop and tabletop displays call out featured merchandise in galleries and retail stores. Display photographs and paintings at craft fairs using cheap picture frames. Easy to assemble, transport, store, and afford, these accessories are a must-have marketing tool. Open-face tabletop framing is great for book signings and bridal shows, and popular with book stores, gift and card stores. Mount CD's and magazines on one of these countertop racks by the register to encourage last-minute purchases. Display plaques and collector's plates on a wide-base model. Folding frames are easy to pack, taking up a minimal footprint in a car stuffed with tradeshow supplies. Buy wooden tripod stands for craft shows to mount small painter canvases at fairs and festivals. Display menus and advertising on these tabletop mounts in cafes and restaurants. Selling apps or electronics? Our slanted acrylic tabletop holders make excellent tablet risers.
These versatile display stands feature an open-face design that will accommodate a variety of print and poster sizes. Cheap picture frames are space-saving promotional tools for shops and galleries. Short on wall space? Our versatile picture holders can rescue the situation! Display sign graphics or art prints in standard sizes such as 4" x 6" up to 18" x 24", as well as odd sizes. Many of our picture holders come with a folding design for travel between the office and trunk show. Set up an exhibit of new items by a register to encourage last-minute purchases. Our easel photo holders come in plastic, metal, wood, and wire to work in any décor, in an array of styles. Some are collapsible, and others have a fixed, all-in-one design. Of all the framing out there, racks that fold are the easiest to take on the road, and store. Fixed styles are stackable for storage, though, and they are a great buy for year-round stores and galleries. Call attention to a special painting or photograph by mounting it in one of our cheap picture frames. Space-saving stands are affordable because there is no need for glass or mats. Some of these stands in larger dimensions are sturdy enough to hold digital photo frames — voila, a tablet riser! Non-skid feet will keep the display of more expensive items secure on a countertop. Some frames even have a header, or in the case of acrylic and aluminum framing, they can be custom printed for extra brand reinforcement.
What construction materials do cheap picture frames come in?
Easel photo holders in acrylic are as cheap to buy and easy to use. The clear plastic ensures all the focus goes on displayed objects. Customize metal and lucite framing with company logos and taglines.
Sign frames in wood with tripod design are perfect for festivals, fairs, and events. Our beech wood, mahogany, natural, and black tripod stands add old world charm to any decor.
Wire signage in metal is durable and cheap, you can't beat these materials for framing signs and art on a tight budget.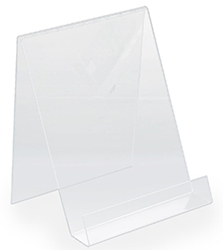 In this collection, we feature both fixed and adjustable stands. Our most popular countertop fixtures are folding tripod racks. These fixtures fold down and store without taking up a large footprint. Place countertop stands inside retail showcases to call out specialty items. Save money when you buy frames in bulk for a large store, or chain of shops, at bulk pricing. Showcase paintings, and promotional signs with these versatile tabletop stands. Standard sizes include 4" x 6", 8.5" x 11", 11" x 17", and 18" x 24". Odd sizes will also fit these displays, due to the open-faced design. Display stands are great marketing tools advertise retail stores, salons, restaurants and cafes. Buy these stands for car dealerships, restaurants, cafes, and travel agencies. and festivals, You'll see them at athletic centers, museums, and art galleries. Business people rely on these advertising supplies for tradeshows and exhibits.
What desktop picture holder styles are available?
Tripod styles with a lipped or pegged design, add old world charm to a display. Our folding displays are popular with artists who use them to paint at eye level. Some models are available with header to boost brand messaging. This style comes in wood, metal, or acrylic.
Slotted frames feature interlocking curved acrylic pieces that attach instantly. Display a small canvas print using this clear signage without any effort. The simple design takes two seconds to assemble, and one second to dismantle!
Lucite tablet risers are not collapsible, but they are stackable for storage. The slanted, all-in-one design is perfect for holding iPads. Constructed of thick acrylic, these are the most low profile stand we have. This style features a deep pocket for holding magazines, books, or touchscreens. Straight versions of this display are great for showing off cookbooks.
Wire stands are a reliable way to display pictures without spending a lot of money. The protective vinyl coating won't mar displayed items. The wide base keeps the presentation steady. This is the cheapest framing solution, so buy in bulk to make sure you always have backup!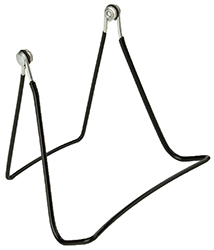 Countertop photo frames with a folding design appeal to busy shop owners. They are easy to fold, and store, with no complex instructions. Transport this collapsible framing from the office to a trade show and from home to an art show or gallery. Stack space-saving frames on top of one another for storage. When folded, these marketing display fit compactly in a carry bag with your promotional literature. Display signs in the greeting area of a hotel or car dealership using these versatile stands. Showcase new merchandise with aluminum framing and add a customized logo to boost brand recognition. Display framed art work, books, mirrors, magazines in books and gift shops. Highlight brand messages with print advertising using our picture stands in restaurants and cafes. Run a digital presentation at a tradeshow with our sleek, translucent tablet risers.These photo frame stands are perfect for outdoor fairs and crafts stores.
Ask Displays2Go.com about same-day shipping for in-stock items. Buy easel photo stands at wholesale prices to save money for your organization. Reduce the need to buy more stands than you need, when you buy frames for signs and prints in varied sizes. Tripod picture holders come in an array of styles to please many types of retailers. These collapsible, adjustable, or fixed display accessories are easy to store. Folding frames store flat, while fixed frames are stackable for space-saving vertical storage. Buy supplies in bulk to make sure displays are always on hand for seasonal sales and special events. Stock up early on framing to support holiday merchandise and advertising. Our frames blend style with function, at a pleasing cost!