Banner Stretching Frames - Silver & Black
---
Stretch Frames Are Sized to Fit Large Scale Canvas Graphics Indoors or Outdoors
Have canvas graphics you want to display on the side of a building or on a large wall? These banner stretching frames feature a rail bar style design that pulls graphics and banners taut. Businesses love to place these large graphics on the side of a building to advertise products and services. Fit graphics that are as large as 10' x 20'. The biggest reason for the popularity of these stretch frames is that the graphics fit snugly within and graphics won't flap around and appeared wrinkled.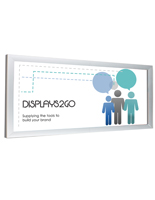 Everything necessary is included with the stretching frames to make setup as easy as possible. Wall mounting fasteners are included to easily attach the frame to the wall. The holders are pre-built and feature both corner hardware and stretch clamps. the snap frames make it easy to install or take out graphics and replace them with something new. Retailers and advertisers love to use snap-in frames because of how simple it is to change out graphics. Sizes are available ranging from 4' x 6' to 10' x 20. The black or silver color options are neutral and will blend well with any environment.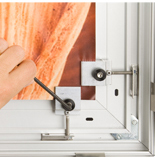 These frames can be displayed either horizontally or vertically. With it being so easy to change graphics in and out, stretch frames are a clear cut choice for people selling ad space or looking to promote their own brand. Snap borders make graphics changing a breeze. Print seasonal and holiday images to constantly showcase fresh ads and keep potential customers engaged.