Illuminated Display Cases Feature LED Lighting
---
Durable Retail Merchandise Display Fixtures with LED Illumination
Does your retail store have items on sale that are struggling to grab customers' attention in low-light? Perhaps a product line deserves more attention, and you would like to bring this merchandise into the limelight to better show-off specific features. Use illuminated display cases to highlight high-quality items in your retail or specialty store. These bright fixtures are great for showcasing jewelry, collectibles, and other items in a way that calls out to your customers and provides them with ample light to observe even the minor product details. The illuminated display cases come equipped with LED lighting which significantly increases visibility in any retail environment. Great merchandisers will position valuable stock on these shelves, and feel secure knowing that not only is it protected under lock and key, but customers will be able to easily shop products they may have otherwise overlooked.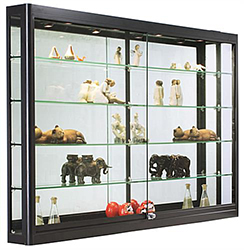 Believe it or not, this type of illuminated display case has true selling power! But retail environments aren't the only place where lighted fixtures can truly shine. You'll often see such glass cabinets in museums, schools, and galleries used to present certain artifacts, trophies, or art pieces. Lighted showcases come in cabinets, countertop cases, towers, counters, and many more styles! These illuminated display cases have the power to draw attention to your merchandise from the moment a customer walks through your door.
These cabinets are durably built with medium density fiberboard (MDF) or aluminium frames that are designed to withstand high-traffic areas while maintaining an appealing look. Constructed with shatter-resistant tempered safety glass, if an accident were to occur, the panels would break into manageable round pieces. We use top quality, lasting, materials when building all of our display cases, so you can be sure that any fixture purchased on our site will attract customers and secure products for years to come.
Shop the many different style options we have available including showcase, tower, pedestal, countertop, and table display cases to accommodate nearly any use. We offer many additional features as well. For example, cases come with available features that include locking doors, storage-ready bases, and adjustable shelves. However, adjustable track lighting is one of the most popular features in this product line for good reason! Instead of letting spotlight positioning dictate where you place your collectibles or jewelry within the case, you can use the track lighting system to alter the spotlights to fit your own unique setup!
Compliment these stationary display cases with countertop fixtures to maximize product visibility and utilize the most space for selling. By using locking collectible boxes, merchandisers can place smaller items such as collectibles, antiques, and art in more accessible locations. Couple these types of cases together and let their strengths play off of each other by allowing our lighted fixtures to attract customer attention to both the items inside and those placed on the countertop.