Swing Board Signs for Sidewalk and Outdoor Advertising
---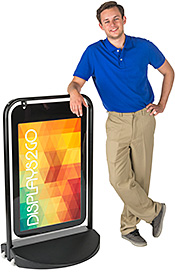 Swinging Pavement Signs with Custom Graphics for Advertising and Events
Are you looking for a way to capture some attention from the sidewalk outside your business? Place our swing board signs on the pavement near the entrance or at the end of your parking lot to draw in customers, advertise new products, or entice visitors with daily specials. The area just outside your store is prime real estate when it comes to promotion. That's why utilizing swing board signs with custom printed graphics is a simple, yet effective strategy for increasing foot traffic. Chances are, the average person walking down the sidewalk won't notice your store, bar, or restaurant without a little help. Placing a vibrant, engaging message in their sightline is all that's necessary to grab their attention and turn it toward your business. Outdoor swing board signs are built to stand up to the everyday weather conditions out on the curb; they decrease wind resistance by allowing the graphic or write-on surface to hang freely and are made from materials that resist weathering like powder-coated steel or aluminum. Many offer portability as well, either with built-in wheels or a lightweight design that makes them easy to bring back in at the end of a long day.
How can I use swinging sidewalk sign frames at my business?
Promote Specials and Deals — Swing board signs for advertising take a crucial piece of information, like a limited time offer or competitively-priced product offering, and put it front-and-center. Potential customers may not be swayed by your aesthetic or the name of your business, but a great deal could bring them in the door. Big and bold custom graphics are essential for catching the eye of passersby, so don't be afraid to go all in on your designs!
Advertise Your Daily Menu — When you run a restaurant, the food should always be the biggest draw. Why not whet diner's appetites by giving them a glimpse at the mouth-watering dishes you've cooked up? Use a write-on sidewalk sign board or one with changeable letters for daily updates if your menu is always rotating or print up a full-color advertisement for year-round customer favorites.
Guide Visitor Traffic — Beyond advertising, these curb signs can guide event attendees to key facilities or areas. For instance, guests might need a visible notification so they know where to pull up for valet service or need a series of messages that direct them to specific parking lots at sporting events. Easy-to-see signage can do wonders for keeping the flow of traffic moving and making sure that large groups of people get where they need to go efficiently.
By far, the simplest way to call attention to your storefront is with a curb sign. It's efficient, cost-effective, and has the potential to be reused over and over as your marketing efforts change. But what if you really want to make a splash? When it comes to outdoor advertising, custom printed banners and feather flags for businesses and events are some of the biggest and boldest options out there. These marketing fixtures dominate sightlines and withstand the elements 24/7, making them a great investment for getting the word out, rain or shine. No matter what route you choose, advertising boards, exterior poster frames, or A-frames, Displays2go has all your outdoor business signage needs covered!