Commercial Event Flooring for Facilities, Businesses, & Functions
---
Temporary Flooring for Commercial Events - Portable, Interlocking, & Anti-Fatigue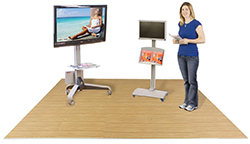 Are you looking for floor tiles or a durable rug to suit a business setting or function? We have a variety of commercial event flooring and mats for any industrial space. Oftentimes, it's hard for people to find inexpensive tiling, and if they find interlocking tiles at a low price they lack durability and stability. Our portable commercial event flooring is long lasting and ideal for any location. These include event tents for makeshift dance floors, trade shows for comfortable booth covering, and gyms as a multipurpose surface. Our rollable carpets, rugs, and mats are ideal for any facility due to their rugged, yet appealing design.
What kind of interlocking tiles and carpeting are available to me?
10x10 snap-together commercial event flooring is available in EVA foam, carpet, and hard plastic with sloped edges. This linked tile system features a design similar to jigsaw puzzle pieces. Just lock each tile together to form the 10'x10' mat. Assembly is simple, and only takes a couple minutes for one person to complete. These panels come in a variety of neutral colors as well as other patterns and finishes to complement any setting. You'll find these locking tiles at places like trade shows, weddings, and other functions where quick setup and breakdown is important.
Anti-fatigue floor mats and rollable carpets are great for events where people are constantly on their feet at awards shows, banquets, and other public venues. These are also used in banks, restaurants, and retail stores for their employees. Our mats come in carpeted and rubber finishes in dark shades of blue and gray.
Looking to personalize a surface? Create custom floor decals with our help! Send us a picture, a message, or a logo and we can have it made special for use in your establishment. These stickers are available with full color custom printing, and in various shapes including oval and rectangular. It's important to have a custom decal color composition that complements your booth carpeting. Find our personalized decals at trade shows, restaurants, bars, offices, schools, and retail stores. Our decals are even reusable and portable. This is perfect if you're taking them to functions or conventions. These stickers can also serve as a guerrilla marketing tactic. This is an unconventional advertising technique where consumers don't realize they're being advertised to. For example, a store can print a message on a decal to intrigue potential customers to come in their business. This person might not have been looking to buy anything today, but they could have been interested by the decal and reconsider.
Our extensive floor tiling systems and rugs are a great fit for any industrial space or business. These tiles also have a place in conventions as a portable landing. At Displays2go, we know how important it is to make a great impression at these functions, as well as having the proper trade show etiquette in and around your booth. We feel confident that you'll find interlocking squares or mats best suited for you in our large catalog of products. Shop online with us today!