Posted on 03, August, 2015
Last Modified on 21, November, 2022
You've spent months preparing for your next trade show and feel pretty prepared to tackle the big event! Your banners and signage were customized with up-to-date logos and taglines to reflect your recent rebranding campaign. You've refreshed your trade show display fixtures and digital signs with top-notch content. So that's all you need right? Well… not really. Being prepared to represent yourself properly and professionally is tantamount to what your displays say about you.

Share This Infographic On Your Site
Designing an effective trade show booth is important, but even more crucial to your success on the sales floor is proper trade show etiquette. The ability to connect goes a long way when establishing customer trust in the product lines you represent and your business on a holistic level. As you engage with customers, here are some valuable trade show etiquette and networking tips for success.
Trade show networking is an important opportunity for many businesses. If you're going to be attending a convention, make sure you network the right way! It's imperative to be professional in both appearance and manner. Maintain good posture; keeping your hands at your sides with your feet six to eight inches apart will make you appear open and approachable. Avoid folding your arms or putting your hands in your pockets. Standing is best, but if you must sit down, use a tall stool so that you can still connect with guests at eye level. Make sure to dress appropriately - leave the miniskirts and raunchy screen tees at home. And don't forget breath freshener! It may sound unimportant, but it can mean the difference between a customer spending time in your booth and that same customer running in the other direction! Finally, it's basic trade show etiquette for the staff to refrain from eating or drinking in the booth. Keeping trash and staff supplies out of view is another mainstay of trade show booth etiquette. Hint: Stash your stuff behind a wall or underneath a skirted table.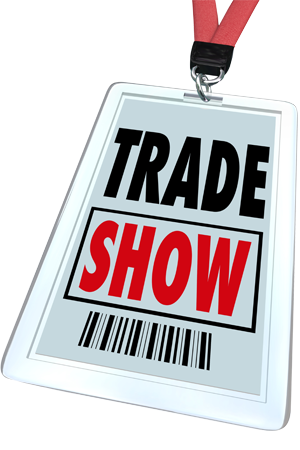 It's also key to be prepared. You wouldn't give a speech or attend a job fair without first having done your homework. The same logic applies for trade show networking & etiquette. Be sure to practice demonstrations and run through presentations to be sure you can speak clearly and informatively about the products and services you're trying to sell. Brainstorm a few strong opening lines to catch guests' attention and draw them into conversation. Open-ended questions work best. Avoid yes or no questions, as they will stall the conversation and end your pitch before it has even begun.
Most importantly, be courteous and keep your focus on the customer. Be careful not to get overly caught up in a sales pitch or demo. Guests are humans, too - treat them that way. Tailor your approach to the clientele you're presented with, and be mindful of your guest's time. They no doubt have a lot of ground to cover at the event, so keep your spiel under ten minutes at most. Another often overlooked piece of trade show etiquette is to pay attention to your speaking volume. If you speak too quietly, your customer will be left confused and unable to understand you. But if you speak too loudly, they'll likely interpret you as coming on too strong and be turned off. Finally, be sure to stay out of other's booths, particularly those of competitors as this can be seen as an attempt to poach clients.
Now, you may be thinking that this is all great, but what about if you're the attendee? Don't worry - we've got trade show networking tips for you, too! First of all, attend alone. You don't want to be distracted by well-meaning friends or colleagues. If you're worried about how to make an approach, just say hi! The presenters are humans, just like you. Simply treat them that way, and you'll do just fine.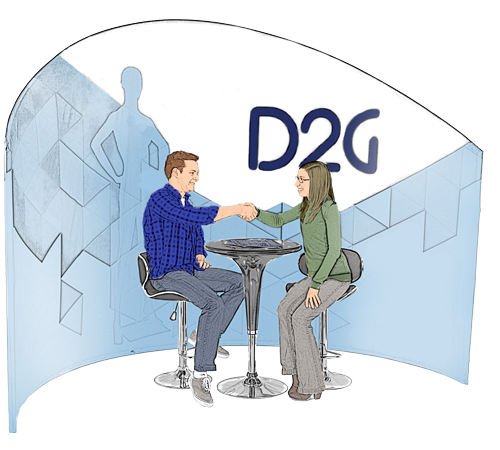 It's a good idea to research which booths you're interested in before you go. That way, you won't waste any time and will feel less overwhelmed since you already know who you're going to talk to before you even step onto the sales floor. Once you're out there, remember to relax. Ask questions, listen, and observe. When you first meet someone, using their name a few times will create a feeling of familiarity. You can also try mirroring - a practice wherein you mimic the person you're talking with. Subtly copying gestures, body language, vocal tones, and choice of words can create a relaxed, friendly atmosphere and help you to bond with your conversation partner. Asking deeper questions about personal hobbies and interests is a great way to stand out as an individual and create a true connection with the other person. Remember that the ultimate goal is to forge honest relationships. If you are courteous, approachable, and willing to show a little bit of your unique self, chances are you will make a favorable and memorable impression.
Finally, don't forget to use social media to your advantage. Many events now provide scannable badges so that attendees can easily exchange contact information. Even if the event you're attending doesn't offer this perk, make the extra effort to get the person's last name and send them an invite to connect on LinkedIn. Post a tweet thanking them for taking the time to chat with you. Read through and "like" their Facebook page. These simple follow-ups can have a lot of power, helping you stay in touch with your new contacts long after the event has ended.
There is no doubt that networking at trade shows is hard work - but it doesn't have to be stressful. With these tips and tricks, you'll be ready to conquer the trade show floor fearlessly! So what are you waiting for? Go forth and start preparing for the next event in your area!