Digital Display Cases for Museums, Jewelry Stores, and Trade Shows
---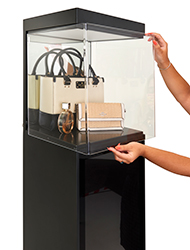 Merchandise and Exhibit Pedestals with Plug-n-Play Digital Displays
Need to create a showstopping feature for merchandise or art? Our digital display cases are excellent for illuminating high ticket merchandise, artifacts, and collectibles. Each showcase is made with energy efficient LED lights that will put the latest device or the oldest statue into the spotlight. These digital display cases with illumination also include a flat panel screen for promotional and educational videos. The modern design is great for listing product features, historical facts, or artist information about merchandise or exhibition materials. The digital display cases with a full vision design create an immersive presentation experience.
What makes these flatscreen showcases great for museums, galleries, and trade show booths?
Our digital display cases each include an LCD screen with photo, video, and audio capabilities. This flat panel inside the case has a plug-n-play design that requires only a USB drive or SD card to upload media files. At trade shows, the LCD screen can inform passersby about the newest product or the company behind it. Museums and galleries can feature artwork and artifacts while the multimedia content explains its history and significance.
Each sleek showcase has energy efficient LED bulbs in the base to illuminate contents from below. Combined with their clear acrylic showcase, these plinths with LCD screens create a high visibility presentation for product samples and collectibles. Our eye-catching towers with electronic signage excel at drawing attention to statues and merchandise.
The modern electronic display case on a base made of laminated MDF. Each fixture features a sleek, glossy finish in black or white. This contemporary design adds an air of professionalism to any exhibit, whether it's in a store, gallery, or building lobby.
Multimedia display pedestals with electronic signage bring a new dimension of branding and information to showcases. Illuminated case stands with flatscreens make excellent additions to upscale boutiques and chain stores. What better way is there to introduce to customers to all the features of the latest smartphone? It's easy to create consistent messaging across multiple stores by using promotional videos and custom graphics. Shop all of our digital signage displays that feature captivating videos in front of the product.
Educational flatscreen pedestals in museums present a wealth of information in one compact space. For example, visitors could see a historical bust, listen to a video about the figure, and read about the sculptor on the customized panel. Give students and history buffs the full story behind every artifact.