Display Pedestals in Open and Enclosed Styles for Single Objects or Groupings
---
Pedestal Display Stands and Plinths for Merchandise, Artwork, and Decorations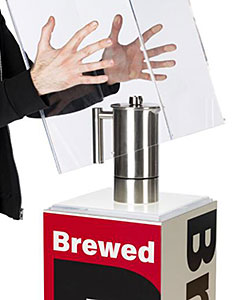 Creating a dramatic presentation in retail stores or galleries doesn't have to be difficult. Display pedestals place the focus on a single item or small groupings. With their minimalist designs, art stands raise objects to a comfortable viewing height. In addition, display pedestals allow the viewer to walk around a sculpture in its entirety for full inspection. We offer simple plinths for staging plants, books, and merchandise without the need for a cover, while enclosed display pedestals are more suited for art, fragile glassware, and expensive items like jewelry that are better left under lock and key. Read on to learn more about what Displays2go has to offer!
Which art stand style is best for you?
Display pedestals without covers are great choices for retail stores. Place non-fragile merchandise on plinths to increase focus on new arrivals or push certain items during a current sale. We sell single pedestals in black or white as well as in sets of three or four in varying heights that create a distinctive presentation when grouped. Modular displays feature up to four independent tiers for designing attractive merchandise centerpieces. Stands that illuminate increase the wow-factor. Shop LED plinths with fun, color-changing capabilities or opt for sophisticated black acrylic models with light emanating only at the top.
Enclosed pedestals are available in locking and non-locking styles. Stands with simple dust covers primarily do not lock, so these are best suited when you're just looking to protect items from dust and handling. Fragile and expensive objects are better served with employee access only. These cases are available with locking dust covers, while larger models offer more room and adjustable shelving. Internal illumination is another feature many of these models also provide.
Pedestals with custom-printed graphics are a great way to advertise merchandise, gallery showings, and other presentations. We'll apply your submitted artwork on all four sides of the plinth. Stands that come with LCD screens mounted to the back of the cover also offer custom-printing that, when used together, create an engaging and memorable marketing display!
Collapsible cardboard stands offer an affordable way to elevate your items or merchandise. These displays ship flat for assembly when needed. The knockdown designs let you prepare for a pop-up shop or other temporary setup, then collapse them when it's time to pack everything up. You have the option of purchasing stands in plain white or with custom-printing. Adding personalized graphics will enhance your brand while creating a more cohesive presentation!
Whether you're planning a showroom, store layout, or gallery setting, these minimalist display fixtures provide the design, style, and professionalism suitable for any exhibit. If you need to extend the presentation beyond the floor, our wall-mount showcases offer the same frameless look and quality with contemporary flair.