Outdoor Business Card Holders with Hinged Lids
---
Outdoor Business Card Displays are a Weather-Resistant Solution
Are you on the lookout for an exterior-rated option for your calling cards and take-away material? Outdoor business card holders are the solution you need for dispensing valuable information. In many commercial locations, companies are searching for a way to create consistent marketing opportunity. Utilizing acrylic outdoor business card holders is an effective way to keep branding and advertising information at arms' length for passersby. With these displays, users will have peace of mind that their material will be safe from harsh weather, wind, and rain. Business card holders are available in a variety of outdoor-friendly styles to meet the needs of any commercial environment. Browse our selection to find one best suited for your company.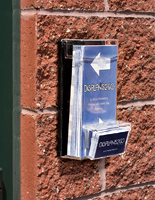 What types of outdoor displays for marketing information are available?
Wall mounted outdoor business card displays come as single pocket acrylic units that hold calling cards. These have a clear construction that makes the contents inside easily visible to passersby. Each unit has a hinged lid that helps keep the cards inside dry and free from the elements.
Card displays with a slot that holds brochures is an effective way to get takeaway material into the hands of passersby as well as informative material. These also have hinged lids to keep the trifolds covered from sun, wind, and rain damage.
Larger card receptacles are available to house magazines and bigger flyers with a front slot that holds cards. Also containing a hinged lid, this will prevent the periodicals inside from being damaged from the wind, sun, and even rain.
Where can these exterior-rated card displays be found? Commercial locations that need to distribute important information like real estate agencies, car dealerships, doctors' offices, and more. Since these units are all wall mounted, counter space isn't used and the boxes can be hung up in convenient locations like outside entrances. The hinged lids and rugged exterior means they can hold up in outside locations for an around the clock advertising solution. Looking for other wall mounted card holder solutions? Browse our extensive selection of business card displays that can be hung in a variety of commercial settings. Shop online at Displays2go.com to take advantage of quick shipping and low prices.