Magazine Racks Include Floor, Wall, and Counter Holders for Catalogs
Shop Magazine Holders by Literature Style

Shop Magazine Holders by Material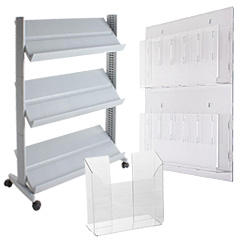 Acrylic/Plastic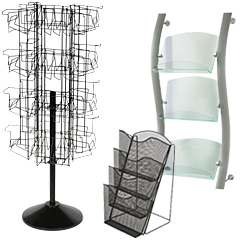 Metal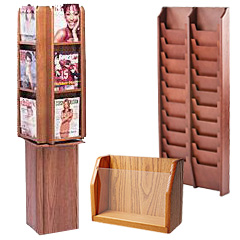 Wood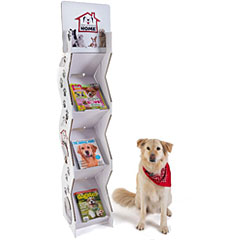 Cardboard
---

Display Racks for Magazines, Catalogs and 8.5" x 11" Print Media
Need to advertise your literature in a high visibility display? These magazine racks are excellent for dispensing promotional media and selling periodicals. Publication holders are often used in office lobbies, stores, libraries, and of course, bathrooms. Magazine racks are available as floor stands, tabletop organizers, and wall mounts to fit in any room. Match existing décor with literature holders offered in plastic, metal, and wood fabrications. Browse magazine racks with a variety of additional features that help businesses build their brand and increase their sales.
What types of catalog organizers do we offer and where are they used?
Floor standing magazine racks boost the visibility of promotions with their large presentation area. These models can hold bulk print media in one place, featuring multi-tiered designs to showcase different periodicals. Spinner displays are excellent for retail stores because they have many pockets for popular weeklies and monthlies. Portable, folding floor stands make great marketing tools for trade shows where attendees can take company information home. These freestanding fixtures have ample space for accessories like sign headers, poster frames, and even tabletops.
Countertop catalog racks are great for placing print media on store counters, reception desks, and trade show booths. These include both single pocket and multi-tiered designs to feature as many booklets as desired. Even though these tabletop holders are smaller than floor stands, they still have ample room for publications, and are even available as spinners. The countertop models are more affordable as well, making them an excellent choice for bulk advertising.
Wall mounted literature display racks have a high capacity yet they take up no floor or counter space. This style is ideal for tight areas like doctor's waiting rooms and hallways. While they're very thin, the mounted booklet holders have a large shelving area that creates a high visibility presentation. In shared buildings, multiple businesses can feature their campaigns in the lobby with these organizers.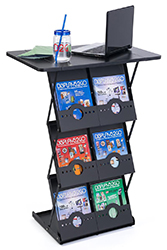 How do you make sure people see your magazines? It's simple — our catalog displays feature clear acrylic pockets. High visibility shelving draws attention to booklet covers that are already designed colorful graphics and messaging. Metal stands with wire pockets are also ideal for getting passersby to notice your offerings. Placement is also a key factor, and our customers find success by providing magazine and literature in lobbies, waiting rooms, or around other advertisement and marketing material. Whether you're promoting your business or selling periodicals, this high visibility shelving makes literature pop.
What other features are available with these booklet organizers?
Double sided shelving is excellent for open areas like department stores, malls, and building lobbies. Walking passersby from both directions will see your printed materials.
Both floor standing and countertop literature spinners have a high capacity for promotions. These three and four sided rotating fixtures grab attention from all angles.
Portable booklet holders help exhibitors bring print media to events. Some models can be used as tabletop while a promoting your campaign at trade shows and conventions.
Promotional fixtures with curved designs stand out to customers and visitors with their unique modern appearance. Choose these contemporary designs to update your advertising décor.
Outdoor pockets for publications are great for dispensing information outside your business. Their clear acrylic fabrication features free samples or holding blank job applications with high visibility.
These floor stands, wall mounts, and countertop pockets are great for featuring product information, periodicals, and fillable forms. Showcase your print media with these high visibility holders and drum up interest in your business.