Countertop Magazine Holder in Plastic, Metal, Wood, and Cardboard Styles
---
Tabletop Magazine Stands for Marketing, Advertising, and Hospitality Applications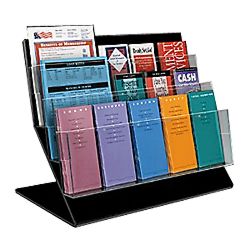 Just like folded brochures, catalogs and periodicals require the right sized displays for presentation. A countertop magazine holder is usually defined as being in the 8" x 10" to 8.5" x 11" range. Whether you plan to use these fixtures in a business lobby or a trade show, getting your literature noticed is what it's all about. Organize and offer your reading materials the professional way, not left as a stack on the table! Displays2go stocks countertop magazine holders in a wide variety of substrates. From simple, everyday styles to deluxe and upscale, our selection can't be beaten! Each countertop magazine holder offers low prices as well as additional price breaks when buying in bulk.
What types of tabletop pockets for periodicals are available?
Plastic countertop magazine holders are the industry standard. Most models are manufactured with acrylic while others feature injection-molded fabrication. Choose from single-pocket magazine holders to multi-tiered racks able to accommodate a lot more content. The styles that come with adjustable dividers provide the flexibility to include narrower items such as 4" x 9" folded brochures.
Metal magazine holders are the most durable of the bunch. Thanks to their thick steel wire construction, these models can take a lot of abuse and still remain standing at the end of the day. We stock holders in single and multi-pocket models with black or white finishes. Select metal literature racks come with one additional feature worth telling. Many of our customers take along tabletop magazine stands for use at conventions, art shows, and book signings. Lightweight wire displays that fold flat make it all possible, especially when traveling by car.
Wooden literature holders featuring warm stained finishes are excellent choices for upscale interiors. Let the beauty of real oak make a statement inside your place of business. Place a wood countertop magazine stand in waiting areas, hotel lobbies, or auto showrooms. In addition, we also offer knockdown displays that disassemble — perfect for trade shows!
Cardboard literature pockets offer straightforward function over form. The least expensive of the lot, these affordable holders are die-cut and shipped flat for the customer to fold and assemble. In fact, they're so inexpensive the proverbial "use once and throw away" can be applied here. However, if you are looking for a cost-effective solution for displaying takeaway literature, give these some consideration. We also offer a custom-printed model for showcasing your business logo or other graphics, which increases the presentation factor considerably.
There are two main reasons for using countertop literature displays. Marketing & advertising is one. Offer shoppers product brochures, financial rates, or other business info. Potential customers can take these promotional materials home to look over and make a decision on whether to buy or not. Hospitality is the other application. Without magazine holders, passing time in a waiting room would take even longer. But there's always more than one solution for displaying literature. Magazine floor stands accommodate more periodicals while offering strategic placement. Display in business lobbies, store aisles, and other public areas with convenience!