Tablet Ring Lights Encourage Spontaneity and Fun at Any Planned Event
---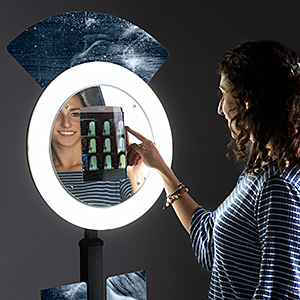 Tablet Photo Booth Stations for Selfies, Home Conferences, and Content Creation
Looking for a creative way to spice up your event or make creating video content a breeze? Our tablet ring lights make it easy to illuminate home conferences, create digital content on social media, stream games, or even film short live-segments! These wall mounts and floor stands let people take self-portraits and video with ease. Tablet ring lights are excellent for getting people to engage with brands at commercial events, or as a key addition to your new home office, making them an effective way to spread the word on social media or manage your work day. Why rent one of these high quality iPad photo booths when wedding planners and convention exhibitors can use them again and again? Choose our LED lit selfie stations and put party attendees and passersby at trade shows in the best light.
What makes these tablet ring lights great for pictures and video conferences?
These selfie stations only require a tablet to snap pics and store them. Each kiosk is a secure enclosure for iPads and Samsung Galaxy Tabs that uses the device's front camera. Place your 9.7" tablet in the display and close with four security screws. There's no need to learn how to use a new gadget, simply use the touchscreen you have and your favorite camera software! This makes it easy to post pictures on social media or send them to the subject.
Each tablet station includes a LED ring that draws people in and provides lighting for photographs. This dimmable light is ideal for self-portraits and can change to fit the environment. Also included is a knob to change the LED's color temperature for even more fine tuning.
Our promotional photo booth is offered as either a floor stand or a wall mount to match any space. Free standing stations feature a height adjustable design to accommodate different audiences. The wall mount has a swiveling arm to point in different directions. These tablet enclosures make it easy to take pictures no matter where they're placed!
What are some unique ways our customers are using selfie stations at home?
Cosmetology & beauty advice is a booming online industry where content creators, internet personalities, and influencers share new looks or tutorials daily to large audiences on social media. These tutorials can range from simple every-day makeup advice to theatrical or special FX makeup. Selfie stations are a great way to set up your tablet, press play, and enjoy a tandem video studio and well lit space.
Live streamershave emerged as a dominant way to turn a hobby into a career at-home. These new professionals will spend their free time, or work days, recording themselves doing anything from cooking, to playing video games, to simply living their daily life and sharing that with thousands of subscribers. While a webcam or camera is not necessary while live streaming video games, content creators who present themself in a well-lit and professional manner have a much easier job connecting with their audience, gaining subscribers, and transforming their platform into a full-time income.
Home offices look vastly different today than they have in the past. As such, professionals are spending more and more time in remote video conferences with their coworkers or clients. Use a tablet selfie station as a great step up from an integrated laptop webcam and enjoy web conference calls with clearly lit, high quality video.
Bloggers and Vloggers make a living sharing their stories wherever they go. In order to capture quality content, record video, and engage with their audience, these personalities need a reliable way to film in almost any environment. Vloggers take advantage of the versatility these selfie photo booths provide, bringing them along on their travels to act as impromptu interview booths, story centers, or simply a well-lit place to look into the camera and reflect on an experience.
How do you use these photo booths to promote your company? It's easy to add your company's name to photographs using custom software. Offering a free picture at trade shows and promotional events is a great way to get your brand out there. Feature your iPad kiosk in front of your custom printed event wall to display your personalized artwork and message. Create a theme with props like fake mustaches and oversized sunglasses for a fun, goofy picture. There's so many ways to engage with people with these easy-to-use photography kiosks.