Stock Message Vinyl Banners Feature High Visibility Pre-Printed Text and Graphics
---
Pre-Printed Stock Text and Graphic Vinyl Banners for Delivering Indoor or Outdoor Messaging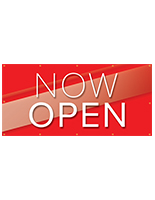 Do you need a quick and easy solution to find and deliver impactful, driven advertisements or announcements to your customers? Our stock message vinyl banners feature pre-printed text and graphics most used in public-facing industries today. Whether your business is thanking its customers for their service, or reminding the of best public health practices, we offer an ever-growing selection of signage. Stock message vinyl banners are versatile and can be used both indoors and outdoors through the seasons. Depending on your needs, we offer advertisement displays in a number of options including floor standing fixtures and ceiling hanging signage with grommets.
What are the benefits of stock message vinyl banners?
Our pre-printed selection saves you time and money from the start, which can be especially useful in time-sensitive situations. Since these products don't have to go through a formal design process they are ready-to-ship and to start impacting your customers as soon as possible.
Ceiling hanging and floor standing stock vinyl banners are a staple for any business that needs to deliver meaningful messaging to their customers. This could range from a public announcement, to an advertisement, sale reminder, and more.
Stock vinyl banners are designed to withstand prolonged use in high-traffic public areas. This includes indoor and outdoor spaces depending on the season. Our hanging signs feature durable grommets, while many of our floor standing models roll-up for quick storage and easy-placement.
As with any industry, job, or trade, to get it done right you need the correct tools for the job. Ensure that your business has customer-facing, noticable, and easy-to-read vinyl banners with pre-printed messaging to help direct and inform your customers. Place these advertisements or notices in highly-visible locations such as entryways, near checkout, above or besides aisles, or anywhere else your customers frequently visit. Displays2go offers a large selection of pre-printed and custom signage options, ensuring you have all of the tools available to deliver your brand's message.
Want to take the guesswork out of creating your own custom piece? Our team has done the work for you by designing these stock message vinyl banners featuring pre-printed text and graphics our customers tell us they need most. If you do, however, want to try your hand at customizing your own, try our hanging banner designer tool.