Custom Crystal Service Awards
---
Custom Graphic Clear Crystal Awards Honor Employee Service
Are you looking for a clear way to show an employee that their time and effort is valued at your company? Our line of custom crystal service awards are a surefire way to boost morale whilst giving your workers something that they can be proud to show off at their desk, locker, or to take home to their family. Each participation and appreciation trophy comes with a stable base, allowing it to stand firmly on any display shelf, window sill, or cabinet. Acknowledging the longevity of efforts and loyalty in your workforce, which has helped your company achieve such success, with a custom crystal service award is an essential part of maintaining a positive work environment. These trophies extend beyond the corporate world, and can be utilized in country fairs, school projects, charity events, and more. Customers, employees, and event winners alike will all value the quality and personalization of a custom crystal service award complete with their information, the reason for the award, and even a logo commemorating the occasion.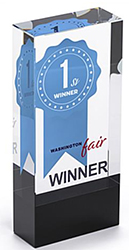 What events are glass trophies most often given?
Custom crystal service awards are a highly effective gift at employee recognition ceremonies, be it a weekly award meeting or year-end company review where individual efforts are highlighted. Consistently showing appreciation in the workplace is a great way to maintain a positive, uplifting, and productive environment.
Schools, including universities and K-12 institutions, have plenty of use for personalized glass trophies. When a simple ribbon isn't enough to honor an academic achievement than we promise, a crystal service award will be a gift worth remembering far beyond your students' school years. Award first-prize winners at science fairs and art shows, or congratulate a sports team for winning a regional or national playoff event. Advanced placement students or valedictorians can also receive trophies, giving them something substantial to thank them for their hard work in a field that often only returns grades on paper.
Local county fairs are a great place to offer personalized or branded crystal service awards. Trophies can be given out as a prize for a number of competitions and activities, whether that be physical races or a pie-eating contest.
A crystal service award is a must-have tradition in any industry. Employees deserve to be reminded that their hard work and dedication to the company is not only valued, but noticed and they can be rewarded for it with a simple gesture. Furthermore, these trophies are a great addition to any banquet, fair, school, or other public event where prizes are given. While ribbons may be tradition, a glass trophy will stand proudly in someone's home rather than finding itself tucked away in a box of memorabilia. Couple the prevalence of crystal service awards with custom printing, and you have a recipe for a long-term branding opportunity that not only reminds recipients of an accomplishment, but of who rewarded them for it, building loyalty. Displays2go carries a plethora of corporate branded gifts designed as give-aways or gift items at trade shows, in offices, or other events. Take advantage of these gadgets and fixtures to increase brand awareness and retain more customers.