Office and Desk Decorations - Interior Design Accents for the Workplace
---
Decorations and Accessories for Desks and Office Spaces
Are you looking to add a little style to your workspace? Our office and desk decorations are the antidote to boring cubicle or work-from-home setups. If you're going to spend a huge chunk of your time somewhere, why not make it a place you'd like to be? Choose aesthetic office and desk decorations, like faux plants, to add a pop of color and shake up a homogenous workspace. Even if you're going for a modern, mostly monochrome look, a little greenery can be the detail that takes your environment from bland to interesting. Is your space too precious to fill with visual-only decor? Our office and desk decorations with built-in chargers marry utility with style, giving you a boost to both your flair and your batteries. Of course, form and function are best in unison with lighting decor like LED-lit faux trees and lamps with USB hubs.
What kinds of work-friendly decor do we offer?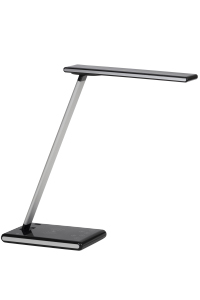 Planters with USB hubs — These office and desk decorations have the dual benefit of looking great and keeping your devices topped up. Work often doesn't happen just on your computer; it can be spread across phones, tablets, and plenty of other electronics that require battery power. Having a desktop charger nearby is a must for multi-device workers, so why not choose one that looks good too?
Desk lamps with wireless charging — Whether you're working late or just need a little extra light, these handy fixtures do more than just brighten up your desk. With the broad swathe of phones that now support wireless charging, it's likely that you'll be able to enjoy the convenience of simply setting down your device and picking it up later with a full battery. Even if your model can't be charged this way, a USB port ensures that you'll never be lower on power when you need it most.
LED trees — Not just for the holidays, these rustic decor pieces help bring a little of the outdoors inside. Their soft lights are great for getting in the seasonal spirit or just casting a warm glow over low-light office settings. Explore the variety of sizes to find LED trees that range from small and discreet to big and dominant.
Nothing is a bigger drain on your creativity and productivity than an environment you just don't like to be in. You spend so much time in your workspace that it should be a priority to create a comfortable, enjoyable space. While decor plays a large part in your workspace, it's important to get the essentials down first. That means outfitting your office with ergonomic chairs that are equally suited to working or gaming. Since both activities require sitting for long periods, this furniture is designed to help you maintain proper posture and form during business or leisure.