Folding Magazine Racks & Portable Literature Stands
---
Folding Literature Stands and Racks for Magazines and Periodicals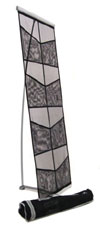 Are you tired of carrying cumbersome literature display fixtures on top of other necessary equipment between trade shows and events? Our folding magazine racks are lightweight, portable alternatives that are easier on both your back and wallet. Collapsible literature stands make it easy to present information packets at large-scale events, helping build brand awareness by sharing take-away product catalogs. These folding magazine racks set up in seconds, saving valuable preparation time during your next big event. The assortment provides traveling sales representatives and company vendors with collapsible choices designed from metal or pliable mesh that balance both style and durability. Folding magazine racks are available with a variety of pocket configurations as well as additional features such as laptop stands or custom signage. Our pop up, folding, and simple-to-assemble designs will help you get your booth up and running in no time!
Why are portable literature stands becoming more popular with exhibitors?
Portable folding magazine racks are ideal for sharing information short-term and interim events. These literature stands excel at supporting trade show booths, pop up stores, and retail sales counters. Our collapsible magazine racks are used by vendors and sales representatives who want to avoid lugging around heavy display systems.
While our literature stands are extremely lightweight, they are built from durable metal, acrylic, or wire mesh materials which ensure a lasting lifespan. The quality construction promises longevity, even when used throughout the busy trade show season. Protective transport cases are often included with the purchase to make going to and from events much easier.
Many versatile magazine racks include desktops to hold important presentation notes, support laptops, or can even act as a small cash counter. Other models feature custom printed sign holders to support advertisements and increase brand awareness.
Customers can be finicky and often notice even the smallest details. Expo booths and exhibits that are using high quality equipment frequently get more visitors simply because they show that they are serious about their businesses.
The majority of our portable catalog racks weigh under 20 pounds, and many as light as 5 pounds, which can be easily carried by one person whilst setting up a show booth. Choose between collapsable single and double sided fixtures or simple pop-up stands to suit your style and display needs. Businesses spend hundreds and thousands of dollars on marketing materials and literature to promote their business' image. Why not get the right portable catalog racks to showcase your pertinent information for a fraction of the cost? Browse our full line of floor standing literature holders today for a large selection of modern designs. Displays2go carries slatwall brochure stands, revolving units, and even pamphlet racks with digital signage. There are also certain configurations that include bonus features, such as a tabletop for extra work space, sign holders, charging stations, or book carts for use in any industry.