Retail Display Counters, Cash Wraps, and Cash Register Stands with Wholesale Pricing
---
Store Counters and Display Cases for Retail Businesses
Need to furnish your business with checkout counters and merchandising cabinets? Our large selection of retail display counters for sale is ideal for any company looking for affordable store fixtures. We offer hundreds of great cases in a wide variety of styles, shelf and door configurations, sizes, and finishes to suit any floor plan and décor. Why buy used retail display counters when we have an expansive catalog of high quality cabinets in a number of different designs at affordable prices? All of our models are sold with wholesale pricing to benefit enterprises of any size. Our retail display counters for sale also ship quickly to supply businesses as fast as possible with the best in commercial furniture. Browse our inventory to find what suits your needs best.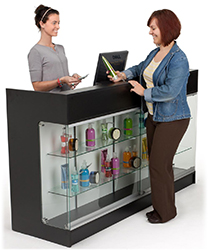 These retail display counters are available in a number of configurations and constructions. One of our most popular designs are our tempered glass cases that feature merchandise with high visibility. These stands are ideal for pointing attention to wares and are especially suited for exhibiting high value electronics, collectibles, handbags, artwork, and jewelry. Browse our "full vision" cabinets that feature clear panels on all sides to optimize visibility for customers. Confused with the terminology? Check out our short article that explains the different display case styles for retail counters and cabinets.
Retail Display Counters & Cash Wraps
Cash wraps are where customers make their final purchases in your retail store. These counters not only serve as point-of-sale areas but also function as retail displays, making them essential fixtures in any store. Cash wraps can be customized in various ways to showcase products that encourage final sales and ensure quick and convenient interactions with customers. These stands are designed to hold cash registers, card readers, and other supplies needed throughout the shop. With a wide range of options available, you can find the perfect cash wrap for your location. Many of our cash wraps are equipped with shelves, drawers, and lockable cabinets, providing maximum functionality and utility for cashiers while creating an enjoyable shopping experience for your customers.
Looking for a combination of style and functionality? We offer store display counters that feature a tempered glass showcase area along with a melamine or aluminum countertop. This design is perfect for accommodating a cash register while highlighting high-impact merchandise in a central location that catches everyone's attention. Our sturdy checkout counters are made of melamine and come in various finishes such as black, white, mahogany, and maple. These configurations also give cashiers the opportunity to engage in-depth discussions about the items and provide an extra chance to make a sale. Some models even include a storage area at the back in addition to the front-facing merchandise showcase.
What features make these retail countertops excellent for your shop?
This catalog includes fixtures in a number of sizes to fit in any location. Our most popular dimensions are 36," 48," and 72" wide.
Each point of purchase display features a secure locking door to safely exhibit wares and store supplies in commercial locations. Two keys are provided to give employees access to these areas.
Our business counters for checkout are made with strong tempered glass that keeps wares highly visible while protecting them from being stolen. This material is stronger than standard glass and when broken, shatters into small chunks rather than dangerous shards. In addition to clear exterior panels, our merchandising showcases use shelving made of tempered glass to increase visibility of your stock. Our full-vision cases use the material on all sides for maximum clarity.
Out of floor space but you still need a merchandising case? Browse our countertop models that give you a sleek, eye level platform for featuring goods. This is an excellent way to feature anything from impulse purchases to high value items. These can have square "tower" designs to rectangular frames that measure up to 24" wide.
Many of our checkout fixtures come with storage space for supplies. Shops need to be prepared for a number of payment methods, requiring card readers, work tablets, cash boxes, calculators, and writing utensils for checks. Our cash wraps with shelves and pullout drawers are perfect for accommodating these sales tools. Keep your countertop clean and organized — not just for a professional appearance, but to make transactions and writing checks a breeze.
Use cashier counters for businesses to create an effective point of purchase in your shop, exhibit wares and store tools of the trade. But how can you optimize your layout to increase earnings and maximize efficiency? Learn how to optimize your retail store by creating the perfect merchandising layout, directing customer traffic, and placing products where they'll drive the most sales.