Fitted Table Covers with Custom Printing for Trade Shows and Events
---
These Smooth Fabric Table Covers Offer Custom Artwork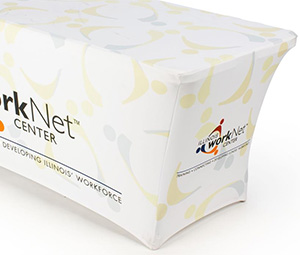 The simple act of covering a table with some form of decoration is commonplace. From banquets and receptions to trade shows and job fairs, colorful linens enhance the overall presentation. When a more high-profile look is required, reach for fitted table covers with custom printing! Not only do these feature wrinkle-free spandex, but they also come with your personalized graphics imprinted via dye sublimation. Fitted table covers with custom printing provide the one-two advertising punch necessary for sales and marketing campaigns. When compared to traditional throws and skirting, these coverings come with form-fitting designs that look stylish and contemporary. If making an impression at the next event is important to you, we highly recommend these fashionable fitted table covers with custom printing!
What do these custom printed trade show coverings have to offer?
Stretch-fit table covers are fabricated with polyester and lycra blended fabric. Also known as "spandex", it gets its name from an anagram of "expands". In order to provide the necessary tension for a wrinkle-free appearance, small cups are sewn into the bottoms at each corner. These loop beneath each table leg as the cover is zippered tight. What you are left with is a smooth fabric cover that features softly curved corners leading from the top down to each foot.
We offer a couple of different options. Most of these fitted table covers with custom printing are designed for standard six or eight-foot folding tables. You have your choice of complete coverage or an open backside. Having the rear section open allows access to all that storage space underneath. It also provides legroom when pulling up a chair for seating. A specialized option is our highboy cocktail table cover. These standing-height models can accommodate tall bar stools or standing guests for casual meetings or other hospitality use.
The most important feature has to do with the custom-printed graphics. They are applied via dye sub printing which is a type of heat transfer process. Once the inks are applied and "fixed", the resulting artwork is both permanent and washable. In order to print onto the polyester, we have to start with white fabric for the graphics to be visible. You can choose for a centered front panel print only or opt for full-bleed, total printed coverage across all five sides. The dye sub process can reproduce high-resolution photos, finely detailed logos, and color-matches. These professional covers transform ordinary tables into a fabulous marketing tool tailor-made for your trade show booth!
If you are planning to invest in one of our spandex fabric coverings, folding event tables are the perfect go-with purchase. We stock lots of sizes in both rectangular and highboy styles. We can't stress enough the amazing impact these fitted table covers with custom printing offer trade show exhibitors and sales teams everywhere. With their lightweight construction and appearance, they add a breath of fresh air to the proceedings while helping to extend the reach or your brand and/or company.