Podiums with Wheels Feature Two or Four Casters for Convenient Mobility
---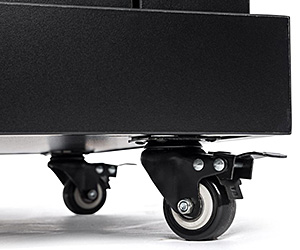 Wheeled Presentation Stands and Hostess Stations Offer Easy Maneuverability
When a pricey lectern needs to be moved, there is always the risk of damage. On the other hand, podiums with wheels practically negate this possibility. Thanks to their heavy-duty casters, repositioning and/or transporting the stand is accomplished without the use of hand trucks or dollies. Our podiums with wheels can be moved by a single person. Once relocated, simply lock the casters to stabilize the lectern in place. We sell podiums with wheels in a wide variety of models designed for any speaking engagement, hotel concierge service, or hostess station.
Which mobile lectern is right for you?
Podiums with wheels are available with two or four casters. The 4-caster models have a wheel at each corner for easy push and roll capability. 2-caster styles behave not unlike a hand truck. Simply tip the stand onto the two wheels and roll on its edge.
Our wheeled lecterns are divided into two main styles. For speeches and presentations, sometimes just a sloped reading ledge is all that's required. However, if you have maps, menus, or other supplies to keep on hand, cabinet-style podiums provide the necessary storage space. Select styles offer secure, locking doors.
Integrated amplification allows you to be heard over the crowd. We offer models with wired or wireless mic capabilities that help to project your voice all the way to the back of the auditorium or hall. Many of these lecterns are also height adjustable.
Holding an event outside? Outdoor podiums manufactured from polyethylene offer weatherproof performance. Featuring a one-piece, hard shell design, these rostrums offer a storage shelf as well as optional sound system equipment (which is often necessary for exterior environments).
Finally, it all comes down to appearances. Affordable black or silver styles offer simple, utilitarian platforms for schools and offices. Conversely, upscale interiors like hotels, galleries, and ballrooms require something more refined. Details such as decorative moldings and raised wooden panels are tailor-made for formal occasions and events. High-end wood grain finishes are available in many popular species like mahogany and cherry.
No matter which presentation stand you choose to purchase, their common underlying feature is mobile functionality. Need to move a lectern from one side of the stage to the other? Or transport one to another room altogether? Wheeled podia make the task easy and without damage to your substantial investment. Want to physically pack up your presentation stand and take it with you? Collapsible lecterns take portability to the next level! These knockdown tabletop and floor standing models come with convenient carrying bags designed for traveling presenters.