Posted on 23, March, 2015
Last Modified on 01, March, 2021
Are you looking to buy or did you just purchase a new whiteboard for your office? After deciding which marker board works for your needs, you must make sure to buy the right markers! There are two main types of markers to consider: dry erase and wet erase. Both are available with similar tip designs, dimensions, and ink colors, so it can be difficult to distinguish between them. This guide will illustrate the pros and cons of each marker type while offering some neat tricks and tips (pun intended) when using them on your new whiteboard.
Looking for Wet Erase Supplies?
Wet Erase Markers
Wet erase markers, also commonly referred to as wet-wipe markers, can be used on any non-porous surface, which makes them great for a variety of materials. But wet-erase ink has a few major differences from typical dry erase markers. First, wet erase pens use a paste instead of an alcohol-based ink which makes the markings semi-permanent. This means that a normal whiteboard eraser will not remove the markings, but a simple damp cloth will remove it quite easily. Another advantage is that wet-erase markings will not fade or bubble under intense heat, so they can be used with marker boards that feature illumination, as well as projector lamps. A little known benefit of wet-erase ink is that it is much less likely to cause an allergic reaction than dry-erase formulas.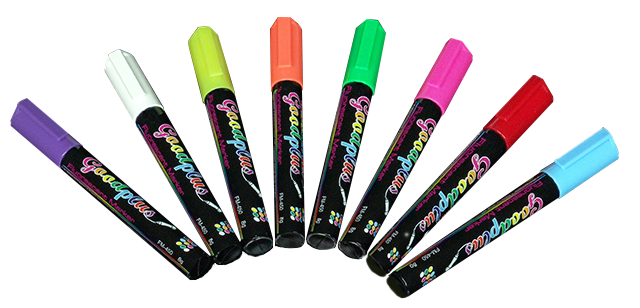 Neon pens and liquid chalk are both very popular forms of wet-erase markers. These writing utensils give your text that traditional chalk look but are easier to use than an actual chalk stick. One might say wet-erase ink leaves chalk sticks in the dust because they don't create obnoxious clouds and sneezing fits. Most of these markers feature neon colors too, which are more vibrant and eye catching especially when used on backlit displays. Restaurants and businesses that use black marker boards for food or drink specials often use brightly-colored liquid chalk to create a bold, contrasting effect. The prominent color and simple wipe-away design makes these markers the ideal choice for crafting effective promotional messages.
Dry Erase Marker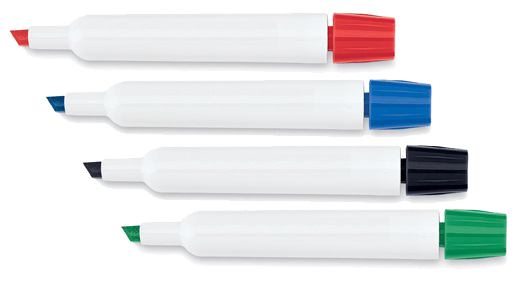 The most popular & widely used writing utensil for white boards is, without a doubt, the dry erase marker. These markers are suitable for any type of whiteboard, overhead projector film, sign board, or other non-porous surface. The ink is easy to wipe clean with a whiteboard eraser or piece of cloth. Sometimes dry-erase markers have a potent chemical smell, but low-odor non-permanent markers are also commercially available. Illustrated below are some ideal board & marker combinations:
| | BLACK MARKER BOARDS | CHALKBOARDS | GLASS | WHITEBOARDS |
| --- | --- | --- | --- | --- |
| Wet Erase | | | | |
| Liquid Chalk | | | | |
| Dry Erase | | | | |
Whiteboard Cleaners and Solutions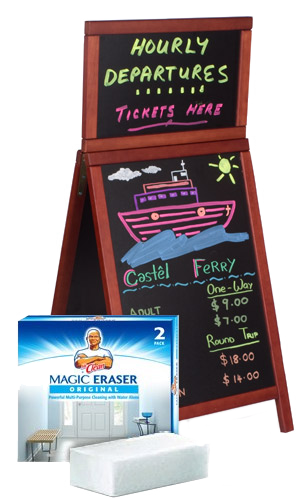 How To Clean Your Whiteboards & Chalkboards: It is important to remember that using the correct markers with any whiteboard is essential to keeping your black or whiteboard clean and free of "ghosting". "Ghosting" refers to leftover markings and residue that remains even after the board has been erased. While ghosting might not be as scary as a real ghost, it should instill some fear because it's one of the fastest ways to ruin a good marker board. You'll want to be careful not to leave any writing up for an extended amount of time because it can make cleaning more difficult. When boards are designed specifically for wet-erase ink, we recommend the use of a melamine foam sponge (better known as Mr. Clean® Magic Eraser, Scotch Brite™ Easy Eraser, or Coralite® Ultimate Sponge) along with water and paper towels for cleaning the boards. It may take a couple times going over the board to fully remove the markings and dry the surface. If you find yourself cleaning off markings that have been left for a while, you may want to purchase a bottle of whiteboard cleaner to facilitate the process.
Below is a list of the best and worst whiteboard cleaners for removing hard to erase marks:
| Cleaner | Brand | Score | Notes |
| --- | --- | --- | --- |
| MB10W Whiteboard Cleaner | Solutions MB | | the best cleaner tested |
| Alcohol, Isopropyl | Generic | | easy removal with good results w/ fumes |
| Nail Polish Remover | Generic | | smeared but decent results w/ fumes |
| Stain Remover | Greased Lightning | | removed most marks |
| Paint Stripper | Klean-Strip | | horrible; removed whiteboard surface |
| Water | Generic | | worst outcome for cleaning |
For more information on other cleaners check out: Top Whiteboard Cleaners