Posted on 29, March, 2022
Last Modified on 21, February, 2023
We understand that shopping for a mount or stand for your tablet for your business, classroom, event, or medical center can be a challenging experience, especially when purchasing online. To help to simplify this process, we've gathered all of the most crucial information you need to become a tablet shopping pro whether you are shopping for an iPad, Microsoft Surface, Samsung Galaxy, or any other tablet.
Determine Which Device You Have
We know you're eager to jump right in and get this process started, so let's get to it! The first step is ensuring you know what tablet you are shopping for. Sounds simple enough right? Maybe, not so much! This is a no-judgment zone — New generations and variations of tablets are released every year so it is easy to lose track of which model you own. We recommend checking your device's settings to locate this information.
In case you catch yourself staring at all of the options under your settings and trying to figure out where to go next, we've gathered helpful guides from these popular brands:
Check Your Device's Dimensions
Having accurate dimension details for your tablet is helpful when shopping for your enclosure or stand. Typically, you will need the height, width, depth, and model of your tablet to get the most accurate fit for the holder you are purchasing.
Apple: Select your tablet from the drop-down menu and scroll down to the Size and Weight section to gather the dimensions for your iPad.
Microsoft: Use the filter on the left side of the page to select Tablet under Form Factor, then scroll through the list of tablets and find your model. After you have landed on the product page, scroll down to Tech Specs to find the dimensions.
Samsung: Use the filters on the left side of the page to select the Model Family to locate your tablet. After you have landed on the product page for your tablet, scroll down to the Compare Models section to find the dimension information.
If your tablet is not made by any of the brands mentioned above, we recommend gathering the dimension information from the company you purchased your device from. If you are looking for a station that can accommodate a variety of sizes and styles of tablet stations or you are unsure of what device you own, browse our selection of universal tablet stands and mounts.
Choose the Best Style for Your Needs
Whether your tablet is going to be used for a check-in station, lead nurturing kiosk, teaching tool, or an information center, having a holder that offers the necessary features for your business application is key.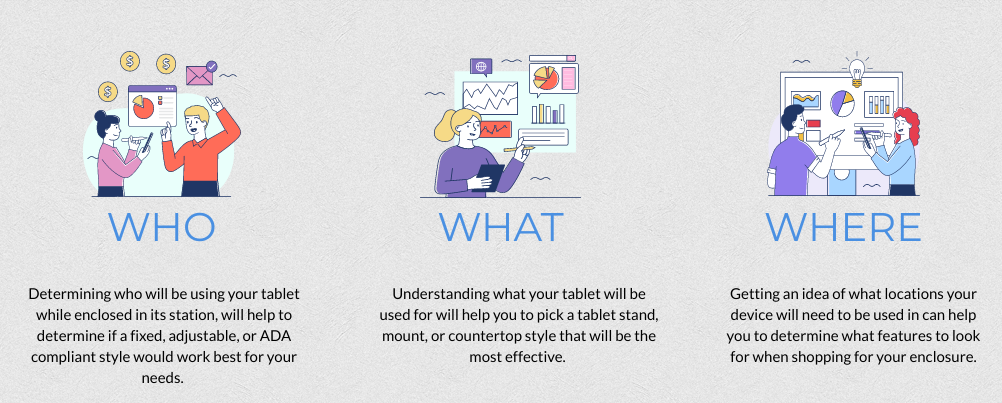 Questions to consider:
Are mobility and adjustability important?
Does your enclosure need anti-theft capabilities?
Will someone with a disability be using your device?
Do you need the home button or camera on your device to remain accessible?
Does your kiosk need custom branding or corresponding signage?
Do you need constant power running to your device?
The enclosure you choose should be convenient for the user, able to be placed prominently in its location, and should appear as an extension of your brand or business.
Get Your Shop On
You've done the hard part, now it's time for a relaxing shopping experience. We hope the information provided throughout this guide has brought you some peace of mind as you make your selection. You've earned your tablet shopping pro badge, put it to the test, and shop for your new tablet stand!
If you would like additional assistance, our team is here to help. Contact us!