Boutique Store Fixtures and Supplies with Affordable Prices
Boutique Clothing Display Racks, Rustic Shelving, and Nesting Tables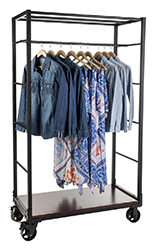 Looking for fashionable merchandising furniture? These high-end boutique store fixtures and supplies are stylish and chic merchandising solutions for a variety of high end and fashion-forward retail establishments. This type of modern clothes display fixtures are typically seen in small specialty shops retailing gifts, fashionable clothing, accessories, jewelry, and many other items. Boutique store fixtures and vintage merchandising displays allow businesses to present a customizable and distinctive brand to customers that you can't find in a typical franchise. These furnishings can be decorative, modern, rustic, or even colorful. Boutique store fixtures create a unique and specialized space that will draw customers in and keep them shopping.
Using attractive and ornamental clothing racks, shelving, and tables presents an image to a customer that is exclusive and modern. When shopping in such a shop, one gets the feeling that the merchandise surrounding them is elite and fashionable. With these boutique store fixtures, customers will be more likely to take a second look at items for sale, purchase them, and, most importantly, return to shop again! As a business owner, gaining a loyal customer is one of the most valuable assets one can attain. In the country's current competitive market place, it is increasingly important for retail establishments to do whatever they can to differentiate themselves from the competition.
Why use exclusive retail displays in your business?
Boutique store supplies showcase clothes such as dresses, shirts, blouses, jackets, pants and more
Display accessories such as jewelry, scarves, hats, and purses
Entice shoppers with unique nesting tables and rustic shelving
Present a cohesive brand image to customers
Boutique store supplies are fully functional yet ornamental, decorative, and attractive! Wrought iron wire stands and ornate bases create a vintage styled appearance. One might expect to see clothing forms such as these when stepping into a small French shop just off the cobblestone streets of Paris. Creating a special and luxurious shopping atmosphere contributes to a customer's positive experience. Our rustic industrial shelving line features real wood and metal pipe for an authentic vintage design. Nesting tables for holding folded clothing and other merchandise are also equipped with these attractive features. Browse our exclusive rustic furnishings, including vintage style shelving, dump bins, corner shelving, and barrel displays.