Laptop Stands With or Without Rolling Casters
---
Laptop Computer Stands with Adjustable & Fixed Designs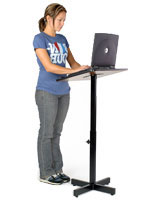 What type of laptop stand are you shopping for? Do you need a mobile computer desk that features adjustable options? The mobile laptop stand is just one of several options offered here! There are various fixed height units with a slanted or flat desktop surface available, as well as many wood finish options. This portable laptop stand that has a tilting desktop is perfect for small classrooms due to the small footprint. This mobile computer desk is a suitable presentation podium that is able to be used in many different ways due to the lightweight construction and portability. Choose an adjustable laptop stand that tilts with various wood grains, metal or a combination of both. One of the popular features offered among this product line is the side shelf. Choose a laptop stand that has a side shelf to hold an additional piece of equipment or papers needed during a speech. There are two new portable computer desks presently added that feature an adjustable side shelf with two different desktop sizes. Each portable notebook desk, laptop stand on wheels is easy to move from room to room. Once the notebook stand is in the desired location two of the casters lock to keep the fixture secure while in use. The desktop swivels to allow users to manipulate the work surface to their liking.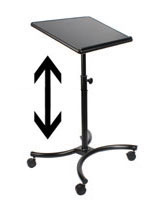 The latest laptop stand that adjusts added to this online selection is the all-aluminum multi-adjustable notebook holder. This unique stand features an innovative design that allows users to create a portable workstation in a sitting, standing or lying position. The laptop stand features a main support with three pivot points that tilt and swivel. The lightweight aluminum construction and easy assembly make this an ideal choice for home or travel use. This laptop stand that tilts features a very basic design that doesn't take up a lot of room when in use or storage. One of the more classic, or traditional, options offered in this product line is solid wood notebook desk. This laptop stand with a slanted desktop features a basic pedestal design with a natural wood finish. The solid wooden cross base keeps the unit stable even on carpeted surfaces. This laptop stand with a fixed height is used in meeting rooms and church groups. The desktop features a small lip at the edge to prevent a notebook computer or papers from sliding off the surface.
Are these laptop stands shipped fully assembled?
The majority of these mobile notebook desks ship unassembled to maintain low shipping costs.
Most of these laptop stands are shipped knocked-down to minimize breakage during transit.
All of these mobile units that require assembly include a full set of instructions and can be completed by one person in a very short period of time.
Where are these laptop stands often used?
Schools and universities use these portable notebook desks for speeches and lectures.
Some of the mobile laptop stands offered here are used in office settings in lieu of traditional podiums.
Hotels and libraries also purchase these height adjustable desks as a convenience for guests.
Many more students and teachers are taking advantage of these mobile laptop stands for on campus and at-home learning. While classrooms are getting smaller to accomodate social distancing guidelines, some educational institutions are utilizing other open areas such as gyms, cafeterias, and outdoor fields to hold safe classroom sessions. Social distancing laptop stands provide teachers with the means to bring a computer with them no matter where class is being held, at times doubling as a mobile podium.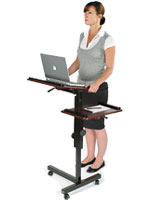 Many of the computer desks, mobile notebook fixtures are suitable for use at a tradeshow or convention. The portability and lightweight construction make it easy for vendors to disassemble and carry to and from a show. Included among this wide selection of portable units are a flat-top and slanted desk set. These mobile laptop stands feature a one piece metal base with an MDF desktop. These portable laptop stands, also called mobile notebook computer desks, are easy to assemble with no tools required. Simply screw the four posts into the bottom of the desktop area and the unit is ready for use. Each of these portable laptop stands features a natural wood finish that coordinates with any color theme or décor. The metal base adds to the overall stability of the stand, and adds to the overall unique appearance. Also included with these laptop stands is a canvas carry bag. The compact design and ease of assembly and set-up make these mobile desks an ideal choice for any business that regularly attends tradeshows or public speaking events.
This portable podium line, such as lecterns and pulpits is just one of several display product lines offered here. This online catalog features more than five thousand unique products. The majority of the items featured on this website are available to ship same day when in stock. Same day shipping is available on order requests that are received prior to 3PM EST weekdays. All other order requests ship the following business day, or within a specified number of days for specialty and custom merchandise. New products are added to this online selection; so be sure to check back often. This company has been doing business in the POP displays industry for nearly 40 years. Our years of experience and dedication to selling quality products are what have made us a leader in this business for many years. Not only do we offer quality items at incredibly low prices; there are also customer service agents available to speak with to inquire about product specifications, shipping questions or simply place an order. These specialists are exceptionally knowledgeable regarding the fixtures for sale in this e-catalog. As an added convenience to our customers; there is also live chat and email available to send questions or request further details. To contact us via phone please dial 1-800-572-2194 , our call center staff will be happy to assist!