Laptop Carts and Workstations for Education and Healthcare
---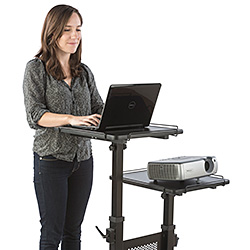 Medical Computer Carts Create Mobile Workstations
Standing up while working or presenting is efficiency defined. Our substantial collection of laptop carts and workstations provides users with plenty of convenient space for electronic equipment. Many jobs require flexibility as well as immediacy, which usually means working on your feet. This requires a specific type of furniture. Laptop carts and workstations offer this and much more. They provide lecturers with shelf space for holding computers and projectors. Wheeled portable workstations give health workers the convenience to work from room-to-room, making it easier to tend to patients. Presentation stands, used at trade shows and other public events, provide the platform salespeople need to sell their services. Whether used by the commercial, educational, or medical professions, these compact and freestanding desks deliver consistent performance.
What types of portable computer workstations do we offer?
Laptop stands offer a simple platform for notebooks and other small electronic devices like tablets. Suitable for school or office use, this smart classroom furniture comes with convenient slanted reading ledges. Choose stationary podiums or opt for stands with wheels. Many models feature adjustable shelves to accommodate people of any height. These can also be used in tandem with office chairs for creating an optional sit-and-stand desk.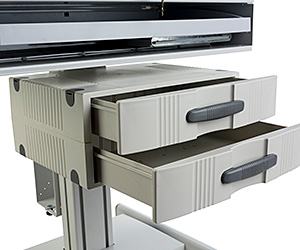 Mobile workstations are equipped with many of the same attributes as laptop stands, but with a few added features. These are designed to support more than a simple notebook. Extra shelving accommodates computer towers, printers, projectors, and other electronic devices. Rolling desktops also provide maximum mobility in an all-in-one solution.
Medical carts fulfill the need for immediate point-of-care accessibility. In addition to keyboard trays and lots of cabinet storage, what sets these movable fixtures apart from the rest are the monitor mounts. In any healthcare facility, doctors and nurses use medical computer carts for logging patient vitals and performing EKGs. The move from paper to digital archiving has made these rugged carts essential equipment in today's fast-moving healthcare environment. It's also important to mention the high quality, steel construction. This medical equipment remains on duty 24/7. It's therefore critical the carts and stations stand up to heavy use without fail.
Are you looking to build a more fluid workspace in the office? These mobile PC solutions cost a lot less than traditional cubicles. Many businesses simply don't have the real estate for large office layouts or classroom training tables for group seating. Furthermore, lots of employees spend limited time on a computer. Their job may depend on a few hours of screen time, then the rest of their day is spent off-site. This kind of workplace scenario is all too common to many businesses. Then there are also the health benefits of standing versus sitting. It improves energy and mood, and is also more likely to boost an employee's productivity. The BYOD workspace is another trend that is transforming the business environment. Empowering employees by allowing them to use their own electronic devices is effecting refreshing changes inside the office. Transparency, collaboration, and simplified IT management are just some of the benefits. By offering affordable mobile work solutions, Displays2go can help realize your goals!