Media Carts with Wheels Including Locking Charging Cabinets and Flat Screen Mount Trolleys
---
Find a Wheeled Media Cart for Any Classroom, Office, or Meeting Room
Are you looking for a mobile multimedia stand for your office or classroom? Our media carts with wheels include TV mounts, shelving, charging stations, and everything you need to transport presentation materials between venues. We offer an array of audio visual transport pushcarts including those with open shelves and locking cabinets as an increased security measure. These media carts with wheels boast sturdy powder coated steel construction and offer a great variety of features suited to your industry specific needs. Our rolling TV equipment trolleys with cabinets can also hold laptops or DVD players, and some models have brackets to hold flat screens. Locking media carts with wheels are easy to move throughout your campus, even while holding heavy electronics. Many of these classroom audio visual trolleys have shelving that is height adjustable to suit the size of televisions or monitors being used.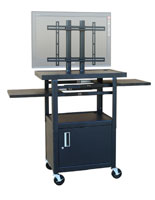 Why are these mobile workstations useful in both businesses and classrooms?
These media carts with wheels are durably built with steel and designed to maintain a professional appearance through daily use in heavily trafficked areas. Each trolley includes four locking casters, increasing mobility yet remaining stationary while in use to protect valuable equipment.
Many portable media carts include locking storage cabinets or drawers to store valuable equipment. Select models even feature ventilated sides to maintain a cool atmosphere while electronics such as tablets and laptops are left on inside.
These multimedia workstations include 4 swivel casters, which lock to add stability while in use. This functionality allows our media carts to support larger television screens and protect valuable supplies from accidental damage. Some rolling models include pull-out shelving to provide additional work space.
Portable audio-visual carts are an essential tool for socially distanced classrooms, where smaller groups of students may be spread out through the campus, utilizing remote or video learning equipent to assist teachers. With limited staff and smaller classes becoming the norm, take advantage of these media carts to provide the same quality education parents, faculty, and students expect. Use these carts to accomodate digital or media-based lesson plans to keep this school season running smoothly.
This selection of AV workstations are especially popular for schools on a tight budget and provide a lasting lifespan when used for classroom presentations. Educators value these supply carts for their mobility between lectures and that once wheeled to the desired location, are secured in place with locking casters. Our audio visual handcarts are constructed with steel, making each trolley a quality investment sure to last for years to come. For spaces that require a little extra security, we offer models with locking doors, perfect for keeping valuable electronics safe. Some AV equipment carts feature adjustable or pull out shelving, which can be used to support laptops, keyboards, and other tools.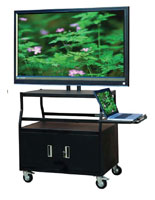 What features do these television trolleys have?
These classroom projector workstations are made of steel and designed for daily use in high-traffic areas.
Many of these equipment pushcarts include a locking storage cabinet or drawer to store valuable electronics (Select models feature a ventilated locking cabinet).
These handcarts have 4 swivel casters (2 of which lock for stability while in use).
Many of our trolleys include television mounts, creating a mobile entertainment system easy to transport between offices and classrooms. Present movies, music, or even lecture notes with ease.
A few rolling models also include a pull out shelf suited for laptops and keyboards and are perfect for use as a mobile standing desk.
These entertainment stations with TV mounts are suitable for flat screen televisions and are utilized in both business and educational environments. Dollys may come with power cords, surge protectors, and a cord winder to provide the user with everything needed to remain organized. Many mobile trolleys can hold flat screens, laptops, DVD players, projectors, and any other equipment! Models with television mounts can hold screens between 42" and 80", making them incredibly versatile. Standard trolleys feature enough tabletop space to hold computer monitors, keyboards, and notes on the go!
Each TV dolly is ideal for workplace presentations, especially in conference rooms, and supports classroom lectures. Whether you are looking to show an educational movie to students or use PowerPoint to assist with your corporate presentation, these audio visual carts are an essential tool. For large offices and educators that use tools such as laptops and tablets, our rolling TV standsare ideal. No matter the industry, any business can benefit from a portable station equipped to share and access information on a whim. Shop Displays2go to outfit your organization with all of the tools necessary to thrive!