3-Panel & 4-Panel Tabletop Display Boards for Portable & Professional Presentations
---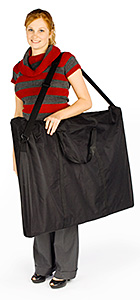 Folding Display Boards For Conference Presentations, College Recruitment, & Exhibitions
Looking to elevate the quality of your next presentation while keeping it eminently portable with a tabletop bulletin board? Exhibition display boards are the answer. We are not talking about the inexpensive cardboard versions which get used once then thrown away. These professional presentation tools are anything but. Manufactured with hook and loop-receptive fabric in sturdy plastic frames, our exhibition display boards, also known as tri-fold bulletin boards offer the quality you'd expect, but at an attractive price. Comparable models commonly sell for two times as much, so why spend more for the same product? Stop buying single-use corrugated cardboard tri-folds when you can re-use these 3-panel or 4-panel exhibition display boards again and again. Our customers have spoken (read their positive reviews on our product pages), and we think you will be pleased with the quality and performance these professional sales tools will bring to the table.
What types of features do these tabletop bulletin boards have to offer?
Our fabric exhibition tabletop display boards come in five widths: 54", 56", 66", 72", and 96". Each model comprises 3 or 4 equal-size panels, complete with a handy carrying bag with a comfortable shoulder strap. Simply unfold the hinged panels into a U or zig-zag shape for a stable tabletop presentation. The double-sided tri-folds are covered with fabric in several event-ready colors. The fabric material accepts hook and loop fasteners that you can apply to graphics or other items you wish to highlight. If you need them, we stock a selection of acrylic display board accessories, featuring sign holders and brochure pockets that make your presentation all the more professional. Some models come with white dry erase surfaces on the reverse side, which provide convenient areas for jotting down notes or phone numbers during the event. Sturdy plastic framing surrounds each panel for a finished look that also keeps the fabric from fraying.
We also offer additional tri-fold and four-panel bulletin board options that add extra focus or emphasis to any table setup. Stands with custom-design headers tell attendees who you are and what you have to offer at a glance. These are especially useful for viewers based on the sheer volume of visual stimuli they have to navigate during a job fair or trade show. If they see your booth setup without a clear indication of who your college or company is, what's to make them stop and visit? Halogen spotlights further highlight your tabletop display with a flashier showcase. These simply clamp onto the top of each tri-fold or four-fold panel and come with extra long power cords.
You may have noticed that almost all the 3-panel stands pictured here are on tables with covers. Skirts and table throws go hand-in-hand with our display boards, making your event setup more professional and inviting. Shop from a wide variety of sizes and colors, including custom-printed options that further personalize your showcase. When it comes down to it, preparing for a school demonstration, college recruitment expo, or job fair can be a daunting task. Take Displays2go into consideration for your next event. Because we know that upcoming events sneak up on many people, we ship most non-artwork orders within 24 hours. We're here to make your next presentation a success!