Wood Poster Frames - High Quality Wall Mounted Framing
---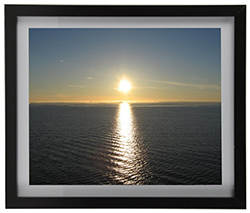 Poster Frames with Quality Wood Fabrications and Finishes
How do you make signage and artwork always look great? Wood poster frames feature an elegant design that will go with any print. Our wall mounted graphic displays are offered in various shades, from matte black to golden oak. Where are these beautiful wood poster frames often seen? Wooden poster holders, with or without mats, are commonly used by businesses that want to present their promotional materials with attractive framing. Hotels, restaurants, and other hospitality establishments feature these displays with inviting artwork — there's no easier way to create a classy, warm atmosphere that patrons will enjoy. Wood poster frames are also excellent for tastefully featuring newspaper articles, employee photos, and memories from company events.
What types of wooden print displays do we offer here?
Wall mounted wood poster frames with a swing-open door don't need to be taken down when changing graphics. This style is excellent for businesses that need to replace prints often, such as real estate offices, stores with seasonal lines, and restaurants with changing menus. Simply open the swinging door, remove the picture and pop in a new one.
Curved wood frames are ideal for featuring promotional graphics with a modern presentation. These convex wall mounts have a higher visibility than flat models because they're easier to see from the sides. Curved displays don't need to be taken down either — just slide in a print through the top slot.
Classic style wood frames with a rear opening door need to taken down from the wall to change images, so they're best for permanent displays. These print holders have a simple design and an affordable price. They're ideal for bulk orders, supplying large advertising campaigns and restaurant chains.
What other features are available with these wooden picture mounts?
Many of our poster displays include a white mat that adds another layer of framing to your image. This border not only gives photographs an upscale appearance, but it makes promotional graphics stand out even more. Remove the optional matting if you want to feature images without this accent.
Wooden wall frames are also available with a clear front panel that prevents dust and fingerprints from tarnishing your display. A clear acrylic lens is great for making sure your image looks as professional as the company it represents.
Our graphic holders with a locking door make sure that only you have access. Secure frames are perfect for busy public areas where you want to make an impression while keeping your ad safe.
Wooden print holders are great for giving any advertisement, artwork, or photograph an attractive presentation. They complement their surroundings whether they're placed in a corporate lobby, doctor's waiting room, or as part your home's décor. For elegant floor standing picture displays, browse our poster floor stands that feature double sided designs and pockets for dispensing literature.