Retail Shelving and Racks for In-Store Display
Shop for a Modular Shelving System
Shop by Material or Style
---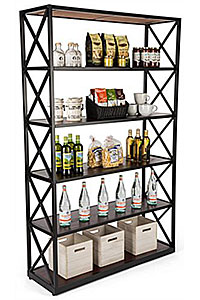 Retail Shelf Fixtures for Sale in Many Designs, Materials, and Finishes
Do your run a brick & mortar or pop-up business that sells merchandise to customers? The odds are high you are using some form of retail display shelving and racks in order to get your products displayed in front of paying shoppers. Whether it's a modular shelf system or a series of independent units that come together as a whole, these display fixtures form an integral part of any store's sales strategy. Retail shelving and racks are available in many natural styles, including solid wood and large panels with faux wood finishes, or eco-friendly poplar. On the other hand, steel gondolas and wire frame models offer intuitive and functional designs in simple black or white. The choices are many, so let's get into what makes each style or system different from the next.
What kinds of instore fixture displays feature modular components?
The retail shelving and racks with standardized accessories come in slatwall, gridwall, and gondola styles. Each line features a simple and flexible display system on which to customize the layout of clothing or other merchandise. Slatwall systems have horizontal channels, gridwall fixtures have square grid patterns, while the metal store gondolas feature vertical channels on each side of the panel.
Each line has its own specific set of accessories designed to hook into the grids or channels. Shelves are the most popular solution for retailers, able to support most types of boxed merchandise. However, there are many more ways to display products, including hanging hooks for blister packs, waterfall hangers for clothing, and baskets and trays for storing bulk smalls.
While all three modular systems can support a lot of weight, the gondola series is the leader of the pack when it comes to heavy duty displaying. This is why they are usually chosen for use in supermarket aisles.
Are there any other non-modular options for retail shelving displays?
Our wire frame store fixtures are available in floor-standing and countertop models. Most come with fixed shelving but there are some that feature adjustable shelf placement, perfect for customizing the rack when different-sized merchandise is offered. The wire frame fixtures with casters provide easy mobility for re-stocking.
Wooden rack displays feature plywood or solid wood construction in a wide variety of shelving or bulk bin options. By their very nature, wooden display fixtures have a rustic appearance that adds warmth to store interiors, making them excellent choices for gift shops and country stores.
Wall mount shelving displays come in the form of geometric hexagons in three different finishes. Mount the polygons individually or combine them into wall groupings for a unique and pleasing presentation.
Etagere fixtures come from the French word for "shelf". These open-shelf models allow shoppers to browse and handle the merchandise. Classier than bookshelves, but easier to access than locked glass showcases, these attractive instore displays further add to the overall presentation inside your establishment. Not only are your products available for customer perusal, they are displayed in pleasing layouts that simply welcome and entice the viewer.
Digital merchandising shelves and rack displays integrate digital screens into traditional display units to promote seasonal sales and new items with multimedia content at the point of purchase. The incorporation of digital screens into these retail storefront fixtures enables small boutiques and sole proprietorships to leverage powerful technology at affordable introductory prices.
Our considerable selection of merchandising racks offers retailers the tools they need to design a sales generating storefront for their brand's aesthetic. It all comes down to the shopping experience and whether or not the customer feels comfortable and informed enough to make a purchase. Your choice of instore displays can be an important factor in how shoppers view your business. Displays2go has been in business for more than 40 years, stocking most fixtures for same day shipping when purchased before 3PM EST!