Marker Boards for School Classrooms, Offices, and Conference Rooms
---
---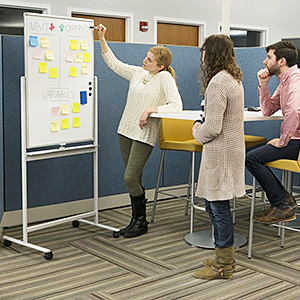 Essential Write-On, Wipe-Off Boards for Educators and Business Professionals
Need a dry erase board for your classroom or office that's easy to write on? Marker boards are great for conveying information to employees and students. These writing tools let anyone contribute to the lesson or meeting and provide a focal point for the topic of discussion. Our marker boards come in a wide variety of sizes and styles to assist presentations in schools and businesses. Whiteboards are offered as large wall mounts, floor stands, rolling easels, and even as write-on tables. All marker boards wipe off quickly with erasers, making them ideal for presenting with speed while maintaining the momentum of a brainstorming meeting.
What types of dry erase boards are available?
Marker boards designed for walls offer the greatest amount of real estate, boasting up to 32 square feet of writing area. Traditional styles feature frames made of wood or aluminum. Modern dry erase boards provide sleek frameless designs, installed with stainless-steel standoffs in each corner. Tempered glass or acrylic writing surfaces are excellent for contemporary studios or offices because of their seamless appearance. Select framed and frameless whiteboards are also magnetic-receptive for posting papers or notes.
Whiteboard easels are the go-to choice when locations need to change. Stands with wheels make it easy to roll the displays down school hallways or corporate offices. Most models are double-sided and come with convenient trays for markers and erasers. Easels with flip chart compatibility are designed to accept standard 24" x 36" two-hole paper pads, useful for recording brainstorming sessions and important meetings.
Write-on tables are functional furniture with dry-erase capabilities. Employees or students can draw directly on the top, ideal for group work activities where everyone is encouraged to participate. We sell height-adjustable, utilitarian tables with melamine writing surfaces and more upscale conference-style furnishings made with glass.
Most whiteboards use dry erase markers. However, we do offer models that also accept wet erase pens. Not sure what the difference is between the two? Read our informative marker guide, a quick primer on dry vs. wet erase ins and outs. Our large selection of school and office tools extends far beyond the traditional white writing surface! We have gray and black glass styles that make markings stand out more than they would on lighter backdrops, as well as markers, erasers, and strong rare earth magnets for the perfect presentation!