Large Flat Screen TV Stands with Multimedia Shelves and Brochure Racks
---
Large Flat Screen TV Stands — Displays 32" to 42" Monitors on VESA Brackets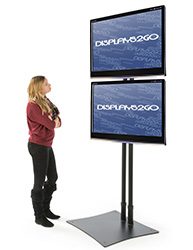 How are large flat screen TV stands used to give businesses an advantage over their competitors? Our monitor racks support 32"-42" plasma televisions for large-scale presentations that get noticed in big venues. The featured displays are designed to hold single and multiple units depending on what type of presentation is being staged. The large flat screen TV stands in this collection are floor mounted, and many of ours have gliding caster wheels for portability. Hard-shell travel cases ensure expensive equipment won't get damaged during transit. Most of our customers use these television racks on the road, but they are sturdy enough to be set up in one fixed location. Our large flat screen TV stands are tall - some of them measure 81"h! They have wide bases that keep the units stable, especially with increased foot traffic. Cord management keeps the display area neat and professional looking. Our plasma screen holders come in an array of eye-catching styles designed to put your exhibits on the map.

What are some of the features of these monitor racks?
Large flat screen TV stands get attention in big venues like conference centers and sports arenas. The problem with heavy equipment is that it takes a lot of people to move it. Not so with our displays that come with wheels and carry cases with gliding casters. Despite their size and weight, our featured displays are easy to move around conference centers, convention halls, hospitals, hotels, and auditoriums.
Some of our television holders come with built-in shelves for displaying promotional literature or holding related electronic equipment like DVD players or cameras. Media displays with locking cabinets are great for securing high-priced technology and valuables so the user can step away during all-day events without worrying about theft.
Multimedia racks can display one monitor- or multiple flat screens. Our featured stands are tall - some reach as much as 86" - so they are perfect for larger venues. Work-stations that have more than one plasma screen are configured side by side, or vertically, one over the other. Our extensive collection of monitor stands includes a custom printed banner stand with a TV placed in the middle. Other unique options include a television display with a styrene back panel that helps trade show staff create a subtle division between their space and somebody else's. In larger venues, you always want an element of surprise to your displays so they'll stand out in a crowd. Our selections here fit that bill, some of them with unexpected features like an S-shaped post or built-in curved signage. Dispensing brochures underneath a presentation is a great way to get visitors to stay connected with you long after they have left your trade show booth or demonstration space. We have media centers with acrylic pockets for just that purpose.
What are the most popular places to use these television racks?
Plasma screen holders are great for supporting classroom lessons and school-wide lectures in high schools and colleges. They can also be used for student entertainment in the student union or other common areas.
Technology displays in all sizes are used by doctors, nurses, and administrative staff in hospitals and laboratories for clinical studies, presentations, and logging in-patient data.
Monitor stands are great marketing tools for hotels and sports arenas. Since these racks are tall, they can be seen from a great distance. These technology holders are great for trade shows - especially because most of them come with travel cases and many people attend trade shows alone.
Multimedia work-stations are used by professional offices to present Powerpoints, and for team building exercises and creative brainstorming sessions.
Our plasma screen kiosks with wide, fixed bases work best in malls and high-traffic areas. Create a directional kiosk with our stands in malls and other shopping areas. Some of these displays can be parked in entry ways so visitors know how to get to which shops are contained in the shopping center. All of our stands are designed with VESA brackets for mounting an array of TV sizes. These units mostly ship knocked down to reduce shipping costs. They are easy to set up with the clear instructions we provide. Brushed and powder coated metal will ensure that no matter how much use your racks get, they resist scratches, dents, and dings. Shop at Displays2Go for portable plasma screen racks for trade shows! Most in-stock items ship fast so you can expect prompt deliver. Our customer care team can help you sort out all of the particulars. We have a full spectrum of merchandise tailored to your daily activities, and we can help you navigate the details.