Rectangle Flag Banners with Stands and Custom Printed Graphics
---
Freestanding 13' and 17' Banners with Single or Double-Sided Custom Printed Graphics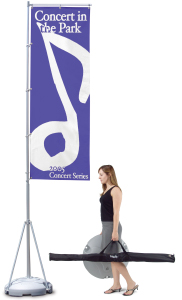 Are you looking to make a bigger impact with your outdoor advertising? Our rectangle flag banners broadcast your message and branding high above crowded spaces like open-air markets and festivals. When it comes to sidewalk advertising, these 13' and 17' tall graphics are unrivaled attention-grabbers, dominating sightlines and drawing in customers who can see them from far away. In situations that tend to draw large crowds like concerts and outdoor fairs, or anywhere there is a lot of visual noise to overcome like at car dealerships, these custom printed rectangle flag banners for businesses are great for cutting through and delivering your message with clarity. Oftentimes, location can dictate your advertising needs. If your store is on a busy street, surrounded by a lot of competition, you might need to go bigger to get noticed. Whether for boosting brand awareness or promoting a sale, these outdoor rectangle flag banners with weighted bases stand head and shoulders above your rivals.
What factors do I need to consider when choosing a size and print option?
How big does it need to be? — Our rectangle flag banners are offered in both 13' and 17' sizes, which includes the entire height from the base to the top edge. The actual graphic heights are 7.8' and 12.9', respectively. Both are built specifically for outdoor use, as they are weather-resistant in moderate conditions and utilize weighted bases that maintain stability in winds up to 31 mph. While great on a sidewalk or out-of-doors event space, these displays work equally well indoors where high-ceilinged venues can accommodate them, such as at trade shows or expos.
What are my design and budget limitations? — Two different print methods are available: silkscreened or digitally-printed. The silkscreening process offers more flexibility in terms of cost, as 1-, 2-, 3-, and full-color options cater to a wide range of budgets. Choosing to print only a single color can result in significant savings in larger runs, whereas full-color is better suited to complex designs. Because of the initial cost of setup, silkscreened flags typically carry minimum quantity requirements of the same artwork. When it comes to digitally-printed banners, the upfront cost tends to be higher, but trade-off for the flexibility of full-color and the option for one-off prints with no minimums. For smaller businesses that may just need one or two outdoor advertising displays, this can be a great way to break in at a lower cost overall.
Where is it going to be placed? — Another factor to consider is whether you want single- or double-sided banners. This is pretty self-explanatory, as single-sided printing has a custom graphic on only one side. On the reverse, passersby may be able to see the design mirrored as light filters through the fabric, but to get the full effect, they'll need to view the printed side. On the other hand, double-sided printing puts the same graphic on both sides so that it is readable from either direction. If you've got traffic coming from multiple angles, this option will have the most impact. Conversely, if your plan is to set up your banners facing out from a storefront where the backs will be harder to see, single-sided printing will do the job.
When choosing the flag banner that works best for you, it can help to think backward. What are you trying to achieve? Do you want to increase brand awareness in a space crowded with lots of different brands? Do you want to entice customers into your store to check out your limited-time promotion? What other kinds of signage are you going to use to support your goals? When going for a total branding solution or a full suite of advertising, explore our custom printed signage in a variety of substrates and placements, from simple paper posters to shaped foam core. Displays2go offers indoor and outdoor graphics to help promote your business, no matter where the need arises.