LED Bar Furnishings and Accessories for Restaurants, Clubs, and Events
---
Enhance Your Bar's Ambience with Glowing LED Furnishings & Supplies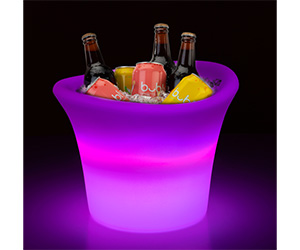 Accent lighting has become a popular choice for creating atmosphere at restaurants, parties, and special events. LED bar furnishings and accessories enhance the festive mood of any interior environment. Simply put, people going out for the night want to have a fun and memorable evening. Using LED bar furnishings and accessories inside your establishment can be your ticket to increased revenue. Light up accent displays encourage patrons to buy more drinks, which means they will stick around longer and spend more. Our LED bar furnishings and accessories will provide visitors with an entertaining experience filled with mesmerizing illumination!
What kinds of glowing light up fixtures do we have to offer?
LED bar furnishings and accessories glorify bottles with their underside lighting. Back bar liquor shelves with tiered designs are the most popular application. Your alcoholic offerings are suffused with color, making them that much more attractive to the buyer. Our bottle risers are made from acrylic plastic to withstand the wet back bar environment. The smooth material also makes the shelves easy to clean with a single wipe.
Light up trays and ice buckets offer a novel way to serve drinks with style and sophistication. Patrons watching their order arrive in resplendent fashion is what makes for a memorable occasion. Also available are planters, round spheres, and teardrop lights that lend an ethereal feel to the proceedings.
LED furnishings in the form of tables, chairs, and bar stools extend the ambiance into rooms and lounge areas. Linear and round seating styles are available for sale alone or as matching table sets. Our illuminated cocktail tables paired with chrome pub stools will add stylish refinement to your interiors!
Portable rolling bars offer an easy way to set up drink offerings at receptions and parties of all kinds. Offering cutting boards, ice tubs, and speedwells, these colorful light up counters come with everything a bartender needs to serve thirsty revelers. Models that offer custom printed graphics allow you to advertise your business in conjunction with vivid full-color illumination.
Most of our light up accessories feature 16-color LEDs with plenty of blending and dimming functions — all controlled with a handheld remote. Choose colors to match your establishment's palette scheme or mix things up during the holidays. Many models also come with internal rechargable batteries that provide hours of fun illumination when no power outlet is available. As with any bar or drink service, you'll need more than just pretty colors to be able to fully serve your guests and patrons. Cup, straw, and swizzle stick caddies provide necessary convenience for bartenders by keeping said items within easy reach.