Sign Displays - Poster Stands, Wall Frames, and Sign-Making Hardware
Poster Frames, Holders, and Hardware for Any Commercial Application or Purpose!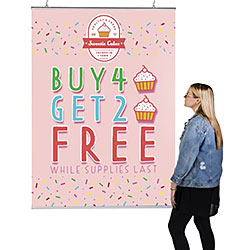 Sign displays are used to advertise new product promotions, special events, designer brands, upcoming movies, daily specials, and much more! Stands and holders come in a variety of sizes, styles, shapes, and materials. We also offer sign displays that provide a place to hold business cards, brochures, or other literature to describe the product or feature on display. Illuminated light boxes provide you with an opportunity to really grab customer attention with bright LED illumination!
Fabricated from quality materials, our sign displays are like nothing else on the market! Hanging and countertop frames are among the most popular advertising products we offer. Exterior-rated holders and poster frames withstand inclement weather, rain, or windy conditions. Sign displays in the form of banner stands or advertising message flags are provided in our huge online catalog to inform patrons of sales or specials, and are available for indoor or outdoor use. Digital signage is, of course, in the forefront of today's retail marketing efforts. Shop our substantial selection of floor-standing kiosks and interactive touchscreen fixtures. Sign hardware is just as important as the visual merchandising it's designed to support. Browse standoffs, decorative screw covers, and a large variety of cable display systems for any application.
It pays to set your business apart from the competition at trade shows, corporate meetings, press conferences & other promotional events. Make a professional, yet stylish statement with your retail advertising. Whatever your particular industry is looking for to maximize exposure, there is sure to be a frame or holder to meet your marketing, presentation, or promotional need! Our point of purchase products will help you make a lasting impression at any event, restaurant, or retail store. Many of our products even allow you to create personalized designs! Inquire with our knowledgeable customer service staff, either online using our "Live Chat" feature, or by phone at 800-572-2194. Because we know you often need your advertising signage in a rush, we ship your order in the shortest lead time possible. In stock products purchased by 3PM EST ship the same day in most cases!