Posted on 15, April, 2015
Last Modified on 27, February, 2023
This article lays out insider tips and tricks for crafting an effective storefront window display. Put your ideas into action with these helpful and inexpensive suggestions!
Where to Start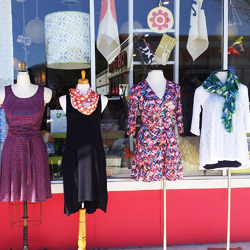 There's more to designing an effective and attractive retail window display than just simply displaying your merchandise. Instead, view your store's window design as an opportunity to make your business stand out from the crowd. You can use it to create a place that will embody your store's mission and brand - one that makes window shoppers do a double-take or even stop in their tracks. If your current window display lacks direction or creativity you are truly missing out on an incredible marketing opportunity. To correct this, all you really need to do is get creative!
Follow these suggestions when first conceptualizing your window design:
Use your window display to tell a story or follow a theme
Avoid the predictable - this is your chance to set the shop apart from cookie-cutter chain stores
Make it attractive, memorable, intriguing, and

colorful

so customers stop & stare
Add elements that are not necessarily product related but add context
Think from the point of view of the passerby - what will be visible from street level?
Keep it simple and focused — don't clutter your display with too many elements that can be distracting to the eye
Next, you'll want to develop a specific theme for your window display with these conceptual elements in mind and map out exactly what you want it to look like.
Sketch Your Design!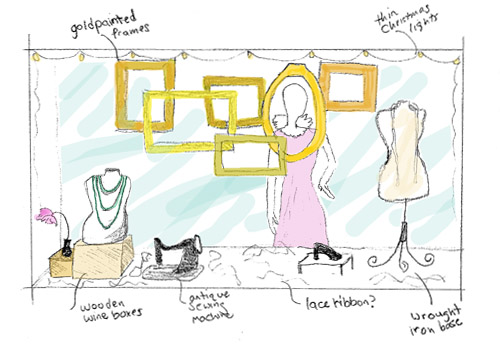 It doesn't have to be perfect, or even that good! The purpose of the sketch is to develop a creative vision and plan to reference as you execute the window design. Making the drawing to scale will help you realize how much space needs to be filled and what should go where before you make any purchases or start any DIY crafts.
Elements of a Storefront Display
Now that you have your concept, you need to actually make it happen. This is much easier said than done...
Here are some ideas to help you turn your design into a reality:
Begin with backdrop that makes the items in your display pop
Mannequin presentation should be simple, deliberate, & tasteful

Choose mannequins with similar styles for brand consistency

Lighting draws attention and illuminates goods - even when the store is closed!

Strings of white Christmas lights
Paper Lanterns

DIY Decorations

Tissue paper flowers - check out this great tutorial
Paper mache + paint = anything & everything!
Get creative!

Play with inexpensive design elements - a few hours of craft time could save you a lot of money

Sheets
Wrapping paper
Fake flowers & greenery
Ribbon
Tissue Paper

Bring your main message or sale to the foreground with a well-placed vinyl decal
Window Display Ideas
Here's a little more inspiration to help get you started!